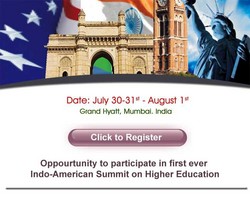 This Event will give Delegates an opportunity to Interact with Influential and Eminent Business, Political and Academic Personalities from around the World.
(PRWEB) July 10, 2010
Coming hot on the heels of the go-ahead for the tabling of the Educational Institutions Bill 2010 is another major event that is poised to raise the profile of and improve the benchmark of Indian higher education.
In celebration of its Golden Jubilee, the Indo-American Society (IAS) is holding the first ever Indo-American Summit on Higher Education.
The Summit itself will see the Hotel Grand Hyatt, Mumbai, play host to national and international delegates from 30 July 2010 to 1 August 2010.
This event will give delegates an opportunity to interact with influential and eminent business, political and academic personalities from around the world.
Dr. V. Rangaraj, President of the IAS states, "Resulting from the Summit, we are planning to generate better interaction, joint research and collaboration programmes, teacher exchange programmes, student exchange programmes, thus helping colleges in India and the United States to sign MoUs for joint action education activities. Thus, IAS builds bridges and helps in capacity building."
Some of the issues to be discussed at the Indo-US Summit on Higher Education include:

Policy and Regulation in Higher Education
Emerging Directions
Overseas Investments
Innovative Partnerships
Faculty and Student empowerment
Community Colleges
A special highlight of the Summit will be B2B meetings, which will provide the participants with a forum to interact with key business, political and academic personalities at a national and international level and address important issues, particularly in regard to policy framing and regulations and international partnerships.
This Summit is the first of its kind being organised in Mumbai with support from the US Consulate General, The American Center, United States Commercial Service (US Department of Commerce), Institute of International Education (IIE), New York AMCHAM Mumbai, Global Knowledge Initiative (GKI)-Washington, D.C., Kellogg's School of Management (Chicago).
The Indo-American Society (IAS) is a recognized leading, innovative institution that promotes friendship between India and the US through activities in the social, educational, cultural, economic, scientific, and management development arenas.
For more details and registration, Please visit http://www.indo-us-summit.org
Event: The Indo-American Summit on Higher Education
Event Dates: 30, 31 July 2010 and 1 August 2010
Venue: Hotel Grand Hyatt, Mumbai, India
To Follow more on developments:
Blog - http://www.blog.indo-us-summit.org
Twitter - http://www.twitter.com/indoussummit
Youtube - http://www.youtube.com/user/indoussummit
Facebook - indoussummit
For more information please contact:

The Executive Secretary, Indo-American Society
Tel: 0091-22-2207 4882 / 83, 0091-22-2200 47 69
Email: info@indo-us-summit.org

Email: silloo(at)indoamericansociety(dot)org
###