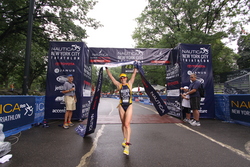 "New York is known for having the most enthusiastic spectators and we wish all of the dedicated and determined athletes the best of luck."--Karen Murray, President of Nautica
New York, NY (PRWEB) July 9, 2010
More than 3,000 athletes will take the plunge into the Hudson River along Manhattan's West Side in Riverside Park (at West 99th Street) for the 10th Annual Nautica New York City Triathlon on Sunday, July 18, 2010, beginning at 5:50 AM.
Participants will swim 1.5 kilometers (.9321 miles) in the Hudson, bike 40 kilometers (24.85 miles) on the Henry Hudson Parkway, and run 10 kilometers (6.2 miles) in Central Park.
The 2010 race sold out in less than six minutes making the Nautica New York City Triathlon the most in-demand Triathlon in America. Four time defending male champion Australian Greg Bennett will go for an unprecedented 5th consecutive title while New Yorker Rebecca Wassner returns to defend her title.
Returning for the third year, the Nautica New York City Triathlon will host the IAMS 5-Mile Doggy Dash with dogs and their humans vying to be the first to cross the finish line in Central Park to win the coveted red fire hydrant.
"We are honored to be part of New York's 10th anniversary in hosting the Nautica New York City Triathlon," said Karen Murray, President of Nautica. "New York is known for having the most enthusiastic spectators and we wish all of the dedicated and determined athletes the best of luck."
Organizers of the race hope to raise more than $2 million for various charities that include: A Running Start, American Cancer Society, Athletes for a Cure, Catalogue for Giving, Donate Life NY, Lupus Foundation, Multiple Myeloma Research Foundation, Muscular Dystrophy, National MS, Paralyzed Veterans of America, Paul's Team, Pulmonary Fibrosis Foundation, Race 4 Rwanda, Team Fox, Team in Training, Team, One Family, Teenok Heart Foundation, Tuesday's Children, and ZERO.
The Nautica New York City Triathlon, the only Olympic-distance Triathlon in New York City, will begin with staggered start times on Sunday for Pros, Paratriathletes (physically challenged) and Age Group Athletes, ranging in age from 18 to 76. The swim leg will begin at 5:50 AM for the Pro Athletes.
"We're delighted to team up with Nautica for a fourth year in a row of putting on a fantastic race," said John Korff, President of Korff Enterprises, organizer of the event. "Our race has grown in popularity not only among our athletes but with people from all over the country and around the globe."
Athletes are represented from 44 states and 23 countries, including Australia, Bermuda, Colombia, Germany, Italy, Netherlands, Spain and Sweden. Registration for this year's race, which was held in November 2009, filled up in a little over 6 minutes. This year, there is $30,000 in prize money.
Once again, the Nautica New York City Triathlon will host the USA Triathlon's Accenture Paratriathlon National Championship with nearly 100 athletes. This race is the only qualifying event for the World Championships; to qualify, they must finish in less than four hours.
For more information about the Nautica New York City Triathlon, please visit http://www.nyctri.com.
WHERE TO WATCH THE NAUTICA NEW YORK CITY TRIATHLON:
WHEN:
Sunday, July 18, 2010
WHERE:
5:50 AM – 8 AM
Swim Start
99th Street at the Hudson River, Riverside Park
(Pedestrians enter Riverside Park at 97th Street & Riverside Drive)
7:30 AM – Noon
Finish Line
At road west of 72nd Street Bandshell, Central Park
(Pedestrians enter park at East 72nd Street and 5th Avenue or West 72nd Street and Central Park West)
ABOUT NAUTICA:
Founded in 1983, Nautica® is a leading global lifestyle brand ranging from men's, women's and children's apparel and accessories to a complete home collection. Nautica® products are refined casual classics inspired and energized by the water that are always crisp, clean and distinct. Today Nautica® is available in more than 60 countries with more than 200 Nautica® branded stores worldwide. For additional information, please go to http://www.Nautica.com.
ABOUT KORFF ENTERPRISES:
John Korff, President of Korff Enterprises, organizes the Nautica New York City Triathlon that began as a part of New York City's Olympic bid effort, NYC2012, of which Korff was a consultant. Korff Enterprises has produced the U.S. National Triathlon Championship, an ITU World Cup in New York City, and the 2004 Olympic Trials for USA Triathlon. Korff organized a women's professional tennis tournament, hot air balloon festivals, and manages sponsorships at various PGA golf tournaments, and is on the national board of directors of the U.S. Tennis Association.
CONTACT:
Rubenstein Communications, Inc. - Public Relations
Martta Kelly, 212-843-8020; mrosekelly(at)rubenstein(dot)com
# # #