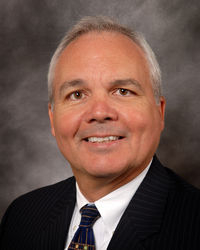 MyFloridaHomesMLS.com allows consumers to research homes for sale, value their homes, search for short sale and bank-owned homes, and even locate a REALTOR®
Orlando, FL (PRWEB) July 9, 2010
My Florida Regional MLS (MFRMLS) is proud to welcome Aaron Chandler as its newly elected President for the 2010-2011 term. Presiding over a cadre of elected volunteers, Chandler and the Board of Directors govern the operations and policies of MFRMLS—a consortium formed by 13 shareholder REALTOR® associations throughout central and southwest Florida.
As a long-time Floridian and owner/broker of Brooks Chandler Realty and CDC Properties of Central Florida located in Lakeland, Florida, Chandler's experience as a REALTOR® and as a former general contractor spans for more than 30 years—helping him to acquire the wisdom and leadership needed to guide the regional multiple listing service through the next stages of the housing turnaround.
Prior to his ascension to the presidency, Chandler has served on the MLS Board of Directors for the past five years. Previous positions include President-Elect, Treasurer and a few years as a Director representing the Lakeland Association of REALTORS®. He has also chaired several committees including Finance, Investment and several relating to MLS Technology. Chandler possesses the e-PRO Certification for Internet Professionalism from the National Association of REALTORS® and is a candidate for the distinguished designation of Certified Real Estate Broker Manager (CRB).
During his term, Chandler and MFRMLS are committed to providing value-added services that rival the best in the industry. In addition to the core listing database, the MLS subscribers receive numerous productivity and marketing tools to help improve their efficiency as real estate professionals. Through the "strength-in-numbers" concept championed by MFRMLS, subscribers have access to the top technology real estate products in the nation. Chandler and his team work diligently to offer these tools at little or no extra cost to the subscribers.
Chandler played a significant role in the launch of a free home buyers' website—MyFloridaHomesMLS.com. Launched in November 2008 with marketing and promotional efforts coming to fruition during 2009 and year-to-date 2010, MyFloridaHomesMLS.com is bridging the gap between home buyers and the MLS. "Traditionally, MLS information was not available to the general public. MyFloridaHomesMLS.com allows consumers to research homes for sale, value their homes, search for short sale and bank-owned homes, and even locate a REALTOR®," says Chandler. "The website is synchronized with the MLS every 15 minutes, which makes it among the most timely and accurate in the Florida market."
Recently, the organization extended its offering beyond residential properties. Designed specifically for commercial real estate transactions, Chandler and his team launched My Florida Commercial Real Estate (MFCRE) in January 2010. "Primary advantages a subscriber can receive with MFCRE over a national company are local decision making, competitive pricing and a carry-over of the productivity tools also offered on the residential MLS," says Chandler.
During his time off, Chandler is a true Floridian. With his family, he enjoys the state's natural beauty and the recreational settings around Lakeland and Tampa Bay. Like a seasoned real estate agent who knows the location of the region's hidden gems, he enjoys discovering the lesser-known waterways and fishing locations.
About My Florida Regional MLS—My Florida Regional MLS (MFRMLS) is Florida's largest multiple listing service with approximately 28,000 subscribers. Owned by 13 shareholder REALTOR® Boards and Associations located in 11 central and southwest Florida counties, MFRMLS offers a comprehensive suite of productivity and marketing tools to professionals in the real estate industry. MFRMLS operates MyFloridaHomesMLS.com, a free public-facing real estate website. MFRMLS also owns My Florida Commercial Real Estate (mfcre.com), a subscription-based commercial information exchange for commercial real estate agents.
###