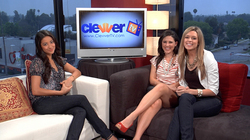 We would like to thank our faithful viewers who have supported ClevverTV by tuning in on a daily basis over the past two years
Beverly Hills, CA (PRWEB) July 13, 2010
ClevverTV has topped 210 million views in just over two years of broadcasting, making it the most viewed teen entertainment news show on YouTube.
By hitting the mark, ClevverTV has become one of the top 60 most-viewed YouTube channels of all time. In fact, it currently has more views than the official channels of President Barack Obama, Perez Hilton, HBO and TV Guide - not to mention teen channels like Popstar! Magazine, Seventeen Magazine, CelebTV and Young Hollywood.
"We would like to thank our faithful viewers who have supported ClevverTV by tuning in on a daily basis over the past two years," said Michael Palmer, Executive Producer of ClevverTV. "When you consider that the average YouTube video is watched only about 500 times, it is really impressive to see the dedication our wonderful fans have for our show."
Watched predominately by females ages 13-24, ClevverTV focuses on teen entertainment and celebrity news. Hosts Dana Ward and Joslyn Davis share news segments, report on fashion exclusives, conduct in-studio interviews and visit teen celebrities on the sets of movies, TV shows and music videos. The show also covers all of the hottest movie premieres and charity events.
Always highly engaging, ClevverTV's hosts regularly answer viewers' questions and comments, as well as interact with fans through the show's YouTube, Twitter and Facebook pages. Viewers can also ask questions of celebrity guests.
"More and more, young people are turning to online shows like ClevverTV to get the latest on celebrity news, entertainment and fashion," Palmer said. "With our funny and talented hosts and engaging broadcasts, we discuss the news and issues that matter most to teens and young adults."
As teenagers and young adults enjoy being out of school for Summer break, ClevverTV expects its audience to grow. With that in mind, ClevverTV has ramped up production and is doing more daily news, celebrity interview, and events. In addition, ClevverTV has launched it's Summer Lounge series of shows in a new casual studio setting overlooking the Los Angeles skyline and featuring today's hottest young stars.
The ClevverTV show is a broadcast of Clevver Media, which runs the ClevverTV and ClevverMovies YouTube channels, the website ClevverTV.com and the entertainment site Clevver.com. The ClevverTV YouTube channel has gained more than 140,000 subscribers and produced more than 2,000 shows since its launch in March 2008.
To watch the regular YouTube broadcasts of ClevverTV, visit http://www.YouTube.com/ClevverTV
###