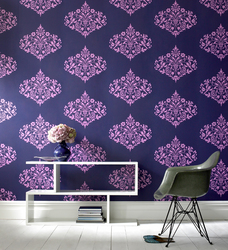 Cranbury, NJ (PRWEB) July 9, 2010
Today's trends can be incorporated quickly and easily into existing home décor with damask wallpaper, which will give any room an instantly dramatic look.
A global design dating as far back as the middle ages, damasks are a staple when designing a room and are constantly being reinvented and adapted to trends. Wallpaper is coming back in full force and damask patterns are a great way to update the décor you already have. Three of the biggest trends Graham & Brown is seeing in the market are large scale damasks, damask motifs that have an ethnic, global feel, and paintable textured wallpapers.
Large Scale:
As a result of interior design trending toward open spaces, many patterns are presented on a grand scale. Dramatically large damasks provide an instant update to any room while maintaining a classic feel. A perfect way to incorporate modern wallpaper is to create a feature wall, which allows one area of a room to be highlighted. Choose an area that people are drawn to in a room, such as a sofa or dining table. A feature wall with large scale damask wallpaper will produce a fashionable and modern look.
Ethnic Damask Motifs:
Styles of damasks have changed and adapted to new trends over time and, as a result, there are a vast amount of options from which to choose. Damask motifs are becoming popular with designs inspired by cultures of India and Indonesia. Amy Butler's new designer wallpaper Fountain takes the idea of a damask design and turns it into a large scale motif, creating more open space and giving it a tribal look.
Textured Wallcoverings:
Adding texture to a wall is an unexpected, contemporary surprise. Choosing a paintable textured damask wallcovering is the perfect design to incorporate into a room for an inexpensive modern update. The large scale damask gives a fashionable look, and the ability to paint the design any color you choose makes it simple to coordinate with existing home décor.
About:
As a global leader in wall decor, Graham & Brown is recognized as a powerful creative source stretching the way people think of pattern and color. Through a combination of innovative techniques and ever-improving design skills Graham & Brown's mission is to inspire people to think differently about their homes. To learn more about Graham & Brown, visit http://www.grahambrown.com.
# # #