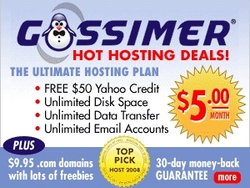 Gossimer is the price leader in the industry," Said Marvin Dreyer, CEO of Gossimer
Melbourne, (PRWEB) July 9, 2010
One of the most popular web hosting and domain name registration companies Gossimer has announced a special promotion on .COM, .Net, .Biz or .Org domain transfer. Under this promotion, all the .COM, .Net, .Biz and .Org domains transferred to Gossimer from outside will be priced at $8.59/year. The promotion is applicable on all .COM, .Net, .Biz and .Org domains.
The regular price of .COM, .Net, .Biz and .Org domain name in the industry is around $10, but under this offer a special price of $8.59 is set for the .COM, .Net, .Biz and .Org domains transferred to Gossimer. With this promotion Gossimer has taken one more step towards lowering the entry barrier for newbie webmasters.
"Gossimer is the price leader in the industry," Said Marvin Dreyer, CEO of Gossimer, "from time to time we come with one cool promotion after another, which helps our customers save some money. Take this promotion as an example. Each of our customers will save around $1.50 on each domain transferred or renewed within the period of promotion. Just imagine the amount of money one can save. We believe in helping our customers maximize their hard-earned dollars."
With every domain transferred to Gossimer, the company offers many free services. It gives free personalized (you@yourdomainname.com) e-mail account with 2 GB free space, and fraud, spam, and virus protection. Along with that you also got Unlimited Mail Forwards, domain forwarding, privacy protection, DNS management, chat and collaboration tool, domain theft protection, bulk tools, and an easy-to-use control panel.
Of late, Gossimer has been chosen to be one among the top 25 most popular domain name registration and web hosting company by Domains Directory for the months of May and June. Domains Directory has also interviewed Marvin Dreyer, CEO, of Gossimer. The interview has been published the Marvin's interview on Domains Directory website below company's profile.
Gossimer has gone a long way, since it left New Jersey and shifted its base to Melbourne, Florida. The company is on the growth trajectory, and the future seems bright for Gossimer and its customers.
About Gossimer, LLC
Gossimer is a full-feature, fastest growing domain name registration and webhosting company. Since 2001, Gossimer is providing web hosting, email hosting, and domain registration services from New Jersey. The company is well known for its exceptionally responsive customer support, knowledgeable technical support, server uptime, and attractive web hosting packages.
For more information, please visit: http://www.gossimer.com
###