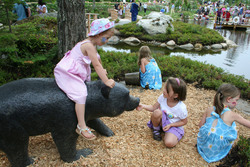 Boothbay, Maine (Vocus) July 9, 2010
Hooplah and hurrahs greeted today's grand opening of the new Bibby and Harold Alfond Children's Garden at Coastal Maine Botanical Gardens. After remarks by luminaries including U.S. Senator Susan Collins, Maine First Lady Karen Baldacci, and Gregory W. Powell, Chair of the Harold Alfond Foundation, the town band led a parade of children's book characters from stories that inspired many elements of this two-acre garden.
Frog and chicken releases marked the lively end to the official opening, but it was just the beginning, since this garden offers feature upon feature that appeal as much to grown-ups as to the youngest among us.
It's a no-tech, elegant space with opportunities for both activity and quiet play. Here, giggly fun mixes in with the satisfaction of digging in the dirt. Kids can climb on a bear, get sprayed by whales, and hear dragons roar. Imagination takes flight through reading, and discovery leads to learning. There's one surprise after another, a trademark of the designer, landscape architect Herb Schaal of AECOM, Inc.
Whimsy and extremes in colors, shapes, and sizes abound. Flowers in every hue fill the Rainbow Terraces. Oddly shaped plants have names like bear's breeches. The curvy maze presents an entertaining challenge. Giant pumpkins vie for attention with the Bean Olympics, where kids can bet on which legume will grow highest.
A corner of the freeform pond is a bog of insect-eating plants. Blueberry Islands are home to sculptor Nancy Schön's bronze bear cub based on Blueberries for Sal by Robert McCloskey. Kids can climb into a dinghy tied to a small dock or the Tidely-Idley from McCloskey's Burt Dow, Deep-Water Man. A "life-size" topiary of Miss Rumphius from Barbara Cooney's book pats her cat in the Lupine Meadow.
The Story Barn is a treasure trove where children can select books to read in the garden. A crooked little house and the Keeper's Cottage flank a coop for live chickens. In the Backwoods area, an adventure tree house awaits, along with a bear cave, stump jump, and a recreated Wabanaki village.
Coastal Maine Botanical Gardens occupies 250 shorefront acres off Barters Island Road in Boothbay, 15 minutes from Route 1. Spectacular ornamental gardens, miles of waterfront and woodland trails, art exhibits, and an excellent café and shop make this an appealing destination for all ages. Hours are 9-5 daily, year-round. To learn more, call (207) 633-433, or visit http://www.MaineGardens.org.
###