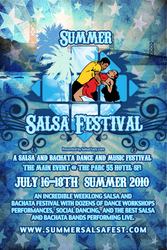 July 16th, 2010 - July 18th, 2010, salsa dancers from all over the world will be taking over the Parc 55 Hotel on Union Square
San Francisco, CA (PRWEB) July 9, 2010
San Francisco, July 16th, 2010 - July 18th, 2010, salsa dancers from all over the world will be taking over the Parc 55 Hotel on Union Square. In partnership with San Francisco Bachata Festival the Summer Salsa Festival will begin the week on Monday, July 12th with several pre-parties around San Francisco with the main event will be held at the Parc 55 Hotel that weekend.
On Monday, July 12th at 7:00pm, the salsa/bachata festival will start off with a pre-festival party in Rockit Room located on 426 Clement St., San Francisco. A beginner dance lesson is offered starting at 7:00pm. At 9:30 pm the venue will turn into a dance party with several DJ's including DJ SalsaCrazy, Rodchata, Fab Fred, Juan Gil, Hokoku, Marky Mark, And Jerem-ahiah playing their mix of salsa, bachata, timba, and other Latin music.
The pre-festival parties continue at Glas Kat on 420 4th st. the following day on Tuesday, July 13th with the band Son de Cana playing live Salsa and Bachata music. On Wednesday, July 14th, the festival party goers will be seen at the Jelly Pier 50 on 295 Terry Francois Blvd located right on the waterfront where a salsa/bachata workshop will be provided by international dance artists Magna Gopal from New York and Camilla Yannantuno from Los Angeles.
The last pre-party before the main salsa festival event will be held on Thursday, July 15th at the Roccapulco Supper Club located on 3150 Mission Street where live music will be provided by Montuno Swing.
On Friday, July 16th, the actual salsa festival at the Parc 55 Hotel located at 55 Cyril Magnin St. will kick off. That night the band Avance will be playing live salsa. Participants can attend to take dance workshops and classes in all levels from absolute beginner to advanced dance classes. During the night, world-class performers will take the stage for shows. After the shows festival pass holders can enjoy both salsa and/or bachata social dancing in different ballrooms through out the night. On Saturday, July 17th, the workshops, classes, and performances continue. As a highlight for that night Dominque Marte with his full band playing live bachata music at the bachata ballroom and Mazacote playing salsa in the salsa ballroom.
On the last day of the Summer Salsa Festival on Sunday, July 18th dancers can practise and learn their last salsa moves of the festival from different instructors and dance the night off with Freddie Munoz and his band. The event is hosted by Juan Gil and DJ Fab Fred.
For more information and about the Summer Salsa Festival and to buy festival passes visit http://www.summersalsafest.com.
# # #