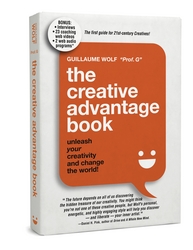 Creativity is a real transformative force. It's the stuff from which everything originates and it's within us
Los Angeles, CA (PRWEB) July 12, 2010
"The Creative Advantage Book" is the first guide for people who want to take their passion to the next level and succeed with their creative projects in the 21st-century. "The key to the Creative Age is not a new invention," says the author. "It's about inner transformation. It's a change from within… creativity is a real transformative force. It's the stuff from which everything originates and it's within us."
"The Creative Advantage Book" is created to encourage readers to pursue their creative dreams and to make sure that their dreams become reality. The book is not only designed for artists but also for people who would not normally consider themselves "creative." For the author, creativity is a gift we all share. "We are all creative! All of us! The old, the young, the tall, the short — everyone!" says Guillaume Wolf.
"The Creative Advantage Book" is focused on the deeply hidden structures that make Creatives successful, regardless of the field they're in. The theory behind the book's formula is that by learning these "Creative Blueprints," illustrated with numerous real-life examples, such as: Daft Punk (music), Karl Lagerfeld (fashion), Philippe Starck (design), etc., readers will be able to think, feel and act like the best Creatives in the world.
"The Creative Advantage Book" covers topics such as: the 3 fundamental rules of creativity; how to ignite creative power; how to effectively handle rejection; how to break through in any domain; how to get rid of creative fears; and the secret of the most successful Creative in the world.
"The Creative Advantage Book" also includes two bonus features. Bonus 1: "How they did it" interviews: 12 Creatives reveal the key to their success. Bonus 2: online access to 23 coaching web videos and 2 audio programs.

248 page book, softcover.
ONLINE BONUSES: access to the members-only area, 23 web coaching videos, 2 bonus web audio programs.
For free chapters and coaching videos, visit http://www.TheCreativeAdvantageBook.com
# # #