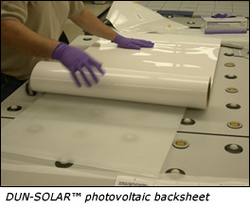 Our years of PV development experience have enabled us to help guide several customers with product design, testing and the UL certification process
Bristol, PA (PRWEB) July 9, 2010
DUNMORE Corporation introduces its FastCert™ Qualification Program for photovoltaic modules. The proprietary FastCert™ program is used to economically expedite the certification process for new solar modules. DUNMORE's FastCert™ program involves aspects of product management, design support, UL certification and the supply of PV backsheet materials.
DUNMORE's experience in the photovoltaic arena combined with a frequent development cycle provides the tools necessary to expedite the solar module qualification process. Robin Kobren, Photovoltaic Team Leader at DUNMORE, says "Our years of PV development experience have enabled us to help guide several customers with product design, testing and the UL certification process."
DUNMORE has a long history of providing photovoltaic solutions. Over thirty years ago, DUNMORE designed and manufactured films for satellite solar arrays and continues today as a top PV backsheet manufacturer. DUNMORE has developed a photovoltaic backsheet for nearly every existing solar technology--from solar concentrators, thin film photovoltaics and traditional PV modules. We provide every backsheet solution under the sun!
About DUNMORE
DUNMORE Corporation is one of the world's top film converters and a leader in photovoltaic backsheets. DUNMORE also produces coated film, metallized film and laminated film substrates for the graphic arts, packaging, aerospace, insulation, surfacing and fashion industries. DUNMORE offers film conversion services such as coating, metallizing and laminating along with contract film manufacturing. DUNMORE is privately held and ISO 9001:2008 certified.
For complete information on DUNMORE's FastCert™ Solar Module Qualification Program visit us at InterSolar at the Moscone Center in San Fransico July 13 -15 at booth 8353. DUNMORE will be exhibiting our ever expanding line of DUN-SOLAR™ photovoltaic backsheets, for more information please visit DUNMORE's website http://www.dummore.com/ or contact:
Media Relations:
Steve Young, Marketing Manager
steve_young(at)dunmore(dot)com
(215) 781-8895
Sales:
Lee Smith, Business Development Manager
lee_smith(at)dunmore(dot)com
215-307-6036
# # #