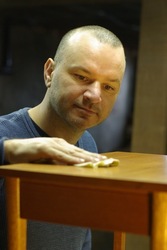 I believe it is my obligation to make an object as useful as it is beautiful
(PRWEB) July 12, 2010
The latest creations from Jody Racicot Modern Furniture feature recycled parts from vintage furniture.
Combining salvaged chrome steel legs with newly designed wood components Jody Racicot breathes new life into an old end table that was headed for the scrap heap. "By mixing old and new I'm able to come up with furniture that is both fresh and familiar," he explains.
A skilled craftsman, Jody pushes his modern furniture to the highest level using rich woods like mahogany, teak and ebony in his original works. "I love the style of the furniture that surrounded me growing up. I remember our home had a knockoff Arne Jacobsen Egg Chair, an Eames rocker, and lots of chrome". Inspirations for his one of a kind furniture are found beyond mid century modern makeovers. He also credits Sam Maloof, George Nakashima and Le Corbusier as influences. "I believe it is my obligation to make an object as useful as it is beautiful" he says of his designs. Jody's stylish cabinets, accent tables and coffee tables are meticulously built one at a time in his Prince Edward Island, Canada studio. Insights into the design process, a photo gallery of his latest work and purchase information can be found on his website.
Racicot arrived at furniture design as a second career following a successful 20 year span as an actor. He continued to train and hone his design skills between TV and movie roles. "Acting paid the bills while I waited for my big break as a furniture designer" he laughs, turning conventional wisdom on its head. The launch of his career in furniture design was sealed upon learning that his last TV series Flash Gordon had been cancelled. His nearly 60 starring roles include appearances in Stargate SG-1, Night at the Museum, X-Files, Eureka and The Lizzie McGuire Movie. Jody received a Leo Award for Best Supporting Actor in a Series for his portrayal of Dr. Hans Zarkov in Flash Gordon.
Jody Racicot is an accomplished designer and builder of original furniture located in Prince Edward Island, Canada. His work has appeared in galleries in British Columbia, Canada and in private collections in USA and Canada.
Contact: Jody Racicot, 902-675-3441. Media kit available at http://www.jodyracicot.com/media/
# # #