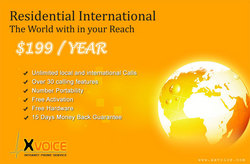 Axvoice offers the most affordable calling plans to help you stay connected with your loved ones across the world
Brooklyn, NY (PRWEB) July 10, 2010
Making long-distance phone calls was never as easy as it is now – thanks to Axvoice, the most well known VoIP service providers in the U.S. Axvoice aims at excellence and complete customer satisfaction in the services it offers to its valued users. The company is well equipped with the right technology and committed team members that set Axvoice apart from its competitors.
There are various package plans offered by Axvoice, ranging from $4.99 per month to $29.99 a month. Every package caters various needs of the customers. The best part is that the "outgoing only" package offered by Axvoice charges $0 per month meaning there's no monthly fee and you only need to pay for the calls that you make. How is it the best package? Well, there might be times when you need to make long distance phone calls related to something really important and it might take hours to discuss the matter. At times, you do not need to use your VoIP phone throughout the month. In such case, the Outgoing only plan is perhaps the best option that you have as it grants you complete control over your bills. All plans have no activation or hardware charges. It will only save you money to sign up with Axvoice.
The residential plan is especially meant for home based users; to provide them with the opportunity to stay connected with their loved ones abroad without any fear of hefty bills. Axvoice Residential International Plan allows you to enjoy making high quality calls to US, Canada and that too free. Apart from this, you can reach up to 40 destinations worldwide. This home phone service with its remarkable calling plans provides worry free services to its customers. The local phone service allows you free network calls.
Connecting to the world was never that easy, but with Axvoice Residential VoIP plans, it seems it had never been that difficult. No matter where your loved ones reside, you will always be able to stay connected. These plans include unlimited outgoing VoIP calls to any local and select international locations offered by Axvoice residential VoIP packages. Following is the information of various packages that this home phone service provides:
Residential USA/Canada plan offers customers living in USA and Canada to enjoy free incoming and outgoing calls in the U.S. and Canada. You can subscribe with as low as $0 per month. The plans offer various facilities like free call forwarding, voice mail, call waiting etc. Moreover, if you acquire the Outgoing only package, you can use the service for free throughout the month, whereas you do not have to pay any monthly recurring, activation fee as well as BYOD activation charges.
US/Canada 200 is the plan that provides it's subscribers with 200 free minutes to the U.S and Canada. After the limit passes, it is just 1.5 cents per minute. All that it costs is $5.99 per month. This again has the feature of free incoming calls.
Pay as You Go' as the name suggests charges 1.5 cents per minute for outbound calls in USA/Canada. The subscription plan charges are only $4.99 per month. Besides, this plan confers the subscriber with a free phone number and free incoming calls. It also includes all the features like call waiting, forwarding and voice mail etc.
There is also a facility to use your account with Axvoice as a calling card. This does not have any per month charges. It costs only 1.5 cents per minute for outgoing calls. So, use this plan to replace the money you used to spend on calling cards. The economical charges make the plan even more attractive. Use your home phone to reach to your family and friends anywhere in the world.
Axvoice has been successful in winning the hearts of hundreds and thousands of customers since its initiation. The VoIP service by the company appeals to the public in general due to its features and affordable rates. With a high speed internet connection and a VOIP Phone, the users can start enjoying inexpensive long distance calls through the VOIP phone service offered by Axvoice.
Keeping in mind its customers and their needs, Axvoice has a wide range of free basic features for its subscribers. Features like Caller ID, Find Me Follow Me, Do Not Disturb, Music on Hold, Call Waiting, Call Forwarding, Caller ID Block, Blacklist, Voicemail Notification via E-mail, Fail Over Number, Speed Dial, Anonymous Call Rejection, International Call Blocking, Call Filter and 3-Way Call. You can block the unwanted callers and add them to your rejection list. For more details, please log on to http://www.axvoice.com
The users can maintain their accounts online to make things even easier, Axvoice offers online live chat support to its clients in case of any problem. You can get assistance from a live assistant whenever you need help. The plans and discounts that this service provider offers for its residential calling plans places it on higher stands as compared to its competitors in the market.
Once you get to use this internet based home phone service you will realize how beneficial the technology is and landline will start to look like an outdated invention. The savings, features, services, customer support and above all the very economical rates all seem like a dream come true. There is a world of a difference between the quality and monthly rates between Axvoice's home phone and local phone services offered traditionally. Save up to 80%, every month on your phone bills by subscribing to Axvoice plans right now. If you acquire the outgoing only plan, you do not need to pay anything in case you do not make a phone call, so you need not to worry about monthly charges!
As said earlier, Axvoice caters all segments and apart from residential customers, it offers services for businesses as well. Not only does it have an ever-growing list of satisfied home users, but business users as well.
###