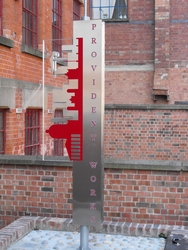 (PRWeb UK) July 10, 2010
Part of the UK and Ireland's largest signage manufacturers, Signs Express (Grantham) are helping Nottingham's extensive regeneration projects by providing a range of signage solutions meeting the visions of the team at Williams Architects Ltd.
Funded by the Greater Nottingham Partnership, Homes and Communities Agency and Nottingham Regeneration Ltd, the grade II listed building; a former Victorian textile mill, has been renovated into a commercial space, housing high quality offices in a convenient close to the city centre location.
After successfully winning the competitive tender for the project, Signs Express centre owner Ian Charles and his team of sign makers worked closely with Williams Architects Ltd over a period of a month planning, manufacturing and installing all interior and exterior sign systems including way-finding directory and door signs with an attractive bespoke external illuminated totem at the main entrance to the building.
The bespoke totem was constructed to show the Nottingham skyline and to ensure the lettering stood out, the skilled team hand-painted each letter in striking red, reflecting the logo of Nottingham Regeneration Ltd. Great consideration was taken with the build and installation of the totem due to the size and unusual structure of the design, ensuring it would not topple over in its footing.
Installed over just 4 working days, the completed modern signage compliments the extensive upgrading of the building and all work was carried out with minimum disruption to the existing tenants in the mill.
Commenting on the finished work, Project Manager Mike Hallam for Williams Architects Ltd said; "During the course of the works Signs Express (Grantham) have been reactive to the fast-track nature of the works, and turned around additional works with great success. The evidence is in the finished article which is receiving praise from all the important stakeholders involved with Provident Works."
Sympathetic to the buildings history, Grantham also provided prints of the mill in its former industrial days, printed in sepia and mounted in acrylic, giving a nostalgic touch to the old mills corridors and entrance hall.
Based on the London Road Industrial Estate, Signs Express (Grantham) provides a complete design, manufacture and installation service for all signage including exterior and interior signs, vehicle graphics, banners, exhibition and display products and health and safety signs. With a local reputation for providing excellent customers service and quality products Signs Express (Grantham) provide signage solutions for a number of local companies including; Belvoir Lettings, The King's School, DeVere Belton Woods and SA Transport to name a few.
For more information please call 01476 577422 or visit http://www.signsexpress.co.uk/grantham (Signs Express (Grantham))
Editors notes:
1) For further information, please contact Claire Docherty at Signs Express Ltd. Tel: 01603 625925 or e-mail: claire.docherty@signsexpress.co.uk.
2) Signs Express is a member of the British Sign and Graphic Association, the British Franchise Association and The International Sign Association.
3) For more information about the Nottingham Regeneration visit
http://www.nottinghamregeneration.ltd.uk
###