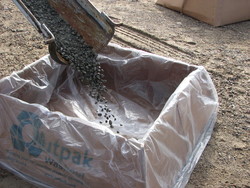 Boise, ID (PRWEB) July 11, 2010
Cement and cementitious (mortar, grout, stucco, plaster, and tile-cutting slurry) effluent is highly alkaline and contains dangerous levels of chromium which can contaminate groundwater. Best Management Practices (BMP) for Storm Water Pollution Prevention Plans (SWPPP) require the use of a wastewater containment area to manage the caustic runoff produced from concrete construction.
The traditional and potentially leak-prone practice of lining an underground trench with visqueen has been modernized by Boise, Idaho based Outpak Washout Systems with the introduction of disposable, easy to set up, concrete washout units.
Outpak's corrugated and PVC washouts are a cost-effective solution for the contractor concerned about staying compliant with EPA stormwater regulations. The unique folding design of the corrugated washout allows it store easily on a mixer truck and then set up in less than a minute. It provides construction professionals with a convenient way to ensure their site is meeting local, state, and federal environmental guidelines for wastewater containment. In addition, these portable washouts are designed to handle more than just concrete: They are able to contain just about any type of hazardous material that needs to be disposed of on construction or industrial sites including paint and petroleum based products.
Rodney Baxter, General Manger at Petra, described his experience with Outpak units this way: "[With ] the time and effort it takes to go build and put a liner in a small pit, you could have several of your washouts setup and ready to use on various locations on the same site."
Recycling construction wastewater may even help a building obtain LEED certification under the United States Green Building Council (USGBC) MR Credit 2.1 guidelines.
About Outpak: Outpak Washout Systems was born through founder Bob Eason's early frustration at not finding a versatile and cost-effective washout option for his concrete construction company. He decided to design and build exactly what he would have liked to see in the marketplace: a concrete washout unit that is low-cost, durable, and portable, yet versatile enough to accept wheelbarrows, mixer trucks and pump trucks. That vision is now a reality with Outpak's new corrugated and PVC washout units.
Contact:
Bob Eason, Owner
Outpak Washout Systems
Email: bobeason(at)outpak(dot)com
Phone: 208-890-0383
http://www.outpak.com
###