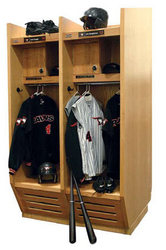 "We can of course make any product or color that an architect can dream of... but to reduce costs, buy stock."
Dallas, TX (PRWEB) July 13, 2010
Worthington Direct, a supplier of school, church, early childhood, and specialty furniture and for over 13 years has recently added more Hallowell school locker and storage options to their online furniture store. Hallowell is a division of List Industries, which has been supplying lockers to the educational marker for 70 years. In a recent meeting with Hallowell's national sales manager, Dick Garnett, Worthington Direct took away some valuable information about the quality and ease that comes with the Hallowell locker brand.
Unlike a school desk or stack chair that can be ordered, uncartoned and placed in the middle of a classroom, lockers require more thought and space planning prior to purchase. Ask anyone that has assembled knocked-down lockers and they will tell you that it is quite a job. Fortunately, all lockers from Hallowell are available pre-assembled which makes installation a much easier task. Hallway lockers are sold in single frames or 3 wide frames to create a neat bank of lockers that fit any school, recreational center or business. Free number plates are included, and sloped tops and closed base options are available for purchase.
Hallowell boasts 5 distribution centers across the U.S. which allow fast lead-times of their stock lockers. These stock lockers ship within 5 business days and reduce costs as they are manufactured in bulk production runs, 8,000 at a time, and then shipped to the various distribution centers to be picked and packed. Stock lockers are available in popular colors that any facility in a hurry can easily incorporate. Garnett explains that "we can of course make any product or color that an architect can dream of... but to reduce costs, buy stock."
Some of the new lockers that Worthington Direct has added to their school furniture website include Rust Resistant Galvanite lockers. Hallowell's corrosion resistant lockers offer the strength benefits of steel lockers while providing protection in moist environments. Sheet steel components are fabricated of a specially treated steel called galvanneal. Galvanneal is steel that is hot dipped to provide a zinc coating and is then heat treated to provide a hardened barrier that allows for a high quality powder coat finish. Like all Hallowell lockers, except box lockers, they feature a steel recessed handle made from heavier gauge steel than any locker on the market.
More and more schools are using see-through lockers as a safety precaution, and these school lockers are now available by the way of Safety View lockers. These lockers have a transparent polycarbonate panel inserted in the doorframe so you can keep an eye on the contents while they remain secure. All Hallowell lockers have full-length continuous piano hinge to provide a strong connection between the door and door frame that reduces break-ins.
School gyms and athletic clubs now can purchase wooden lockers to add quality fine furniture to their locker room areas. Constructed from furniture-grade red oak, the Recruiter Sports lockers are protected by three coats of cabinet lacquer. Athletic Club Lockers are also available and are made of red oak plywood and feature European-style cabinet door hinges and locks. These gym lockers are keep belongings safe in a beautiful wardrobe and ship out in just 5 business days.
Hallowell also makes open rack shelving and closed shelving racks that are now available from Worthington Direct. These storage racks are constructed of cold-rolled steel and supported by 14-gauge steel posts with 11-gauge steel sway braces. Three weight capacities are attainable by varying shelf gauges; medium-duty, heavy-duty, and extra heavy-duty. Order a single shelving rack, or create a large storage system with the option to purchase a starter rack with multiple add-on racks.
Made in the USA, "our manufacturing and quality is second to none. Hallowell triple checks all orders before shipping…employees sign their name at each step of the process" says Garnett. Couple these quality lockers with fast lead-times and the excellent sales and customer service from Worthington Direct, you'll have piece of mind locked down.
About Worthington Direct: After spending over 13 years supplying school, church, office and preschool furniture, Worthington Direct knows what is important - selection, service, price and timing.
Our goal is to make your purchasing job easier. With competitive pricing, knowledgeable sales associates, and products with quick, efficient shipping, Worthington Direct is committed to be your furniture resource. Schools and churches look to Worthington Direct for competitive pricing for school furniture, church furniture, preschool furniture, early childhood furniture, library furniture, desks, wholesale furniture, computer furniture, classroom furniture, chalkboards, office furniture, room dividers, storage cabinets, easels, display cases, cafeteria tables, activity tables, classroom desks, computer tables, desk chairs, lecterns, literature racks, office desks and risers among its large stock.
###