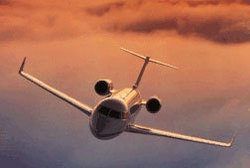 Buyers in the 2010 private jet market are able to take advantage of the down economy and name their price. - - - Dan Jennings, TPJC
Jupiter, FL (PRWEB) July 28, 2010
The percentage of pre-owned business jets for sale has decreased from an all-time high of almost 18% of all private aircraft delivered to-date, to 15% in June according to Jetnet, which translates to around only 2,700 aircraft for sale worldwide. It is considered a buyers market when more than 10% of the total fleet is for sale.
Since early 2010, buyers started returning to the market and are now aggressively pursuing distress opportunities and aircraft such as late model heavy jets are back in demand. With the combination of a decrease of the numbers of new aircraft being delivered, and a recent increase in the numbers of successful sales appears to indicate a near-term market bottom of prices. The window for acquiring private jets at over 50% off 2008 prices is closing rapidly.
Anybody can search the internet for private jets, however the true experts in the field are the ones who are familiar with the details that really tell the story of what is a great deal and what is lemon. Some aircraft opportunities are too good to be true and buyer soon find out that the aircraft has damage history or extensive heavy maintenance overdue. Experienced brokers know how to negotiate a deal and quickly assemble all the right experts, from inspectors to attorneys, pilots and lenders to close the deal from start to finish with no nasty surprises. To take advantage of this market oppoutunity, The Private Jet Company (TPJC) just announced the launch of their new website http://www.ThePrivateJetCompany.com as well as their comprehensive, consultative service for buyers and sellers of Private Jets worldwide.
The experts at The Private Jet Company monitor the worldwide markets on a daily basis to track the metrics of the private jet market as well as the maintenance history, ownership history, asking prices and all other relevant aircraft details. The TPJC experts are ready to represent clients for the purchase or sale of private aircraft and have long term relationships with aviation legal council, inspectors, bankers, tax experts and other parties to facilitate the timely completion of transactions.
The team at TPJC are focused on close interaction with our clients to understand their mission profile, budgets, requirements and preferences. Only after fully understanding our client's needs, will our experts start searching the world aviation marketplace for suitable aircraft that meet clients needs and TPJC's stringent requirements of ownership pedigree, maintenance and price. If you need help in purchasing or selling your private jet give the professionals at TPJC a call today.
For full details regarding selling or purchasing a pre-owned Private Jet, please contact Daniel Jennings at The Private Jet Company, (561) 247-JET1 (5381) or visit the website at: http://www.ThePrivateJetCompany.com
###