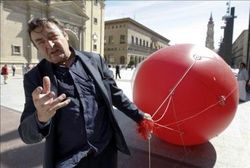 I can see Albert Camus along the seashore of Texas, Mississippi, Louisiana, Florida, Mexico and even up the coast of New York and chronicling an unavoidable, encircling climate of death
New York, NY (PRWEB) July 11, 2010
Two months ago filtered into the news machine the biggest environmental catastrophe of American history. It might soon become the most tragic episode of all man made environmental catastrophes in the world ever. The reports of the experts seem to have been buried in a mud of PR dispatches and press conferences. People are turned away from the infected sea coasts. How far the contamination and the oil mud will reach; how many states, estuaries and even countries will be affected?
Angel Orensanz has concentrated until yesterday on his sculpture project "The Abyss of the Gulf". While taking the last shots and the last video at his construction he was commenting: "I can see Albert Camus along the seashore of Texas, Mississippi, Louisiana, Florida, Mexico and even up the coast of New York and chronicling an unavoidable, encircling climate of death".
Sculptor Angel Orensanz has just enacted in a large tract of urban space of Manhattan, next to his studio Foundation, a vision and dramatization of the apocalypse in the Gulf of Mexico. His constructions in tarpaulins and shards show an endless carnage of disemboweled remains, limbs and charred landscapes.
Angel Orensanz has repeatedly reenacted in the same lot some of the most dramatic moments of his imagination and of the surrounding reality. Over the years he has created in the same yard signature events and artistic constructions such as Ground Zero: The September 11 Catastrophe (2001); The Steppes of Mars (2003), Burning Universe (2006), Galaxy of Snow (2007) and now The Abyss of the Gulf (2010).
While the information changes wildly, the Orensanz construction in The "Abyss of the Gulf" maintains a permanent strength of emotion and suggestion. Miles and miles of wreckage fill the expansive lot where he unfolds his take on a continental catastrophe that is not explained but metaphorically reenacted. We descend to the abyss and the abyss ejects debris and death. Angel Orensanz likes to use many "real life surprises", like Russian theatre director Vsevolod Meyerhold used to do in the 1920's. Meyerhold mixed real war front blasts with theatrical fare in an immersive manner. News of the Gulf raises universal fear, revulsion and emotions. The constructions of Angel Orensanz raise awareness and determination.
The difference of this installation and of the others is that now his constructions accompany what is happening. "The Abyss of the Gulf" maintains a permanent strength of emotion and suggestion. We descend to the abyss and the abyss ejects debris and death.
The installation "The Abyss of the Gulf" will be presented at the Angel Orensanz Foundation during the month of August using textiles constructions, photographs, video, text and music.
Starting August 9th for two weeks, 7:00 pm – 9:00 pm every day.
172 Norfolk Street, New York, New York. Tel: 212-780-0175
Please send us an email if you need more information.
###