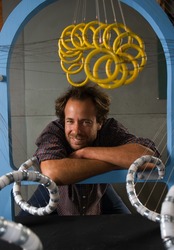 Kinetic sculpture remains one of the most enchanting fusions of technology and high art, and Nebula's contemporary design blends perfectly with Hilton Anatole's legendary artwork collection.
Dallas, Texas (PRWEB) July 12, 2010
When guests of the Hilton Anatole stroll into the hotel's redesigned Atrium II space later this fall, they will discover Nebula – a structure made of 10 miles of aircraft cable, 1,780 pulleys and over 4,500 amber crystals – floating above in a wave-like dance. Nebula is a dramatic, slowly moving kinetic structure, organized in a multi-tiered, geometric pattern and fans out almost 100 feet long and 50 feet wide.
The sweeping design of Nebula, or "cluster of stars," is the work of world-renowned artist Reuben Margolin. Combining the logic of mathematics with inspiration from wave patterns and the graceful motion of caterpillars, the 39-year-old San Francisco Bay Area sculptor creates large-scale kinetic sculptures using pulleys, motors and a wide variety of materials. His large-scale undulating installations have been found in art spaces in San Francisco, New York, London, Mumbai and Switzerland. Dallas is the next city to showcase a Margolin work-of-art.
Inspiration. Imagination. Transformation.
In 2009, after submitting designs for a kinetic structure competition led by Atrium II's interior designer, EDG Interior Architecture + Design, Margolin was commissioned by Crow Holdings – owners and operators of Hilton Anatole – to conceptualize and design a dramatic centerpiece for Atrium II, a 31,000-sq.-ft. common area inside the hotel.
"The first time I walked into Atrium II, my heart leapt," says Margolin, a Harvard graduate. "In the daytime, natural light floods in, and at night the panes of glass above become a night sky of stars as they reflect the interior lights. I wanted to do justice to the magic of the space by incorporating light, magnificent scale, steel truss work and sparkles high above."
Now, Nebula takes shape as Margolin and a team of engineers and fabricators piece the materials together in a large production warehouse in San Francisco. The artwork will be shipped to Dallas, where it will take approximately 17 days and a crew of five to suspend the piece 50 feet above the Atrium II space. When complete, Nebula will slowly rise and fall in a complex choreography so that it appears to swim or breathe in graceful strides. The movement is not digital in origin, but rather the result of one mechanism using pure physics to create complex and fluid shapes.
Math & Physics Meet Art & Design
Nebula invites contemplation from a variety of perspectives: as a mesmerizing kinetic sculpture; as a visualization of the complexities of wave motion and related scientific and mathematical concepts; and as an intricate and beautiful mechanical device.
"Kinetic sculpture remains one of the most enchanting fusions of technology and high art, and Nebula's contemporary design blends perfectly with our legendary artwork collection," said Mark Messina, general manager of Hilton Anatole. "Reuben's work brings a new dimension of energy and a timeless sense of wonder to our guests and staff alike. We are fortunate to have his talent, passion and creative genius on board as we re-imagine our space."
Margolin adds, "I look forward to making Nebula come alive and 'swim' for the first time in this beautiful space. This is an amazing project, and I hope that it embellishes the Hilton Anatole as a creative and mesmerizing experience all its own."
For photos, videos and more information about Margolin's work, visit http://www.reubenmargolin.com . To learn more about the Hilton Anatole, visit http://www.hiltonanatole.com or call (214)-748-1200.
Located within a 45-acre campus, the Hilton Anatole Hotel features two high-rise atriums; a 27-story tower; and 1,606 luxuriously appointed guestrooms with first-class in-room amenities and wired Internet access. Additionally, the hotel offers guests more than 500,000 sq. ft. of event space as well as a variety of recreational activities, including viewing the Art Collection, one of the largest and most intriguing private assemblies in the world; an 80,000 sq. ft. fitness center, tennis courts, one of the finest lap pools in the region, an indoor jogging track; gift and sundry boutiques; V Spa, the hotel's newest luxury spa oasis; and 5 unique restaurants and bars for dining and entertainment, including the new high-tech Media Grill + Bar, award-winning five-star Nana and chic Gossip Bar.
About Hilton Hotels
Hilton Hotels is the stylish, forward-thinking global leader of hospitality that welcomes guests in more countries than any other full-service hotel brand. The Hilton brand currently includes more than 530 hotels and resorts in 76 countries, and plans to serve travelers in 80 countries by the end of 2011. By offering innovative products, services and amenities, Hilton enables travelers to be at their best 24/7, whether traveling for business or leisure. Start your journey at http://www.hilton.com .
About Hilton Worldwide Hilton Worldwide is the leading global hospitality company, spanning the lodging sector from luxurious full-service hotels and resorts to extended-stay suites and mid-priced hotels. For 91 years, Hilton Worldwide has been offering business and leisure travelers the finest in accommodations, service, amenities and value. The company is dedicated to continuing its tradition of providing exceptional guest experiences across its global brands. Its brands are comprised of more than 3,600 hotels and 592,000 rooms in 81 countries and include Waldorf Astoria Hotels & Resorts, Conrad Hotels & Resorts, Hilton, Doubletree, Embassy Suites Hotels, Hilton Garden Inn, Hampton Hotels, Homewood Suites by Hilton, Home2 Suites by Hilton and Hilton Grand Vacations. The company also manages the world-class guest reward program Hilton HHonors®.
For more information about the company, please visit http://www.hiltonworldwide.com.
###