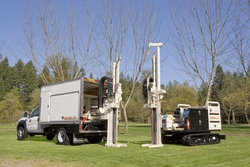 this drilling crew is one of the best in our field!
Clackamas, OR (PRWEB) July 14, 2010
Cascade Drilling, L.P. is a full service drilling company with six locations in Washington, Oregon, and California. The addition of these two new facilities in the San Diego and San Francisco Bay areas, gives them local access to these markets, combining the nearly 20 year commitment to safety and quality, that Cascade Drilling is known for, with the value and flexibility of a local presence.
"... Personally, I have been working as or with drill crews for nearly 10 years and this drilling crew is by far one of the best in our field!..." says Brett Engard, Arcadis.
Both of these new facilities boast Cascade Drilling's full line of Environmental and Geotechnical drilling and direct push capabilities including, hollow stem auger, direct push soil and water sampling, vacuum utility clearance, roto-sonic, air and mud rotary drilling, and rock coring. Their large fleet ensures that they have the right equipment for any job.
Cascade Drilling, L.P. can complete any drilling or direct push job, from testing and monitoring well installation and decommission to soil and water sampling and in-situ remediation. All work is done by expert drilling crews that are certified and health monitored for the work they are performing. Their field safety inspectors ensure that the highest degree safety and efficiency is always top priority. With the expansion into the San Diego and San Francisco Bay areas, the uncompromising safety and quality that is synonymous with Cascade Drilling can be delivered with the speed and value of being a local company.
###