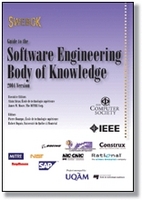 "Having the support of the IEEE Computer Society's Industry Advisory Board will help ensure the industrial relevance of the SWEBOK Guide," said Pierre Bouque, the Guide's co-editor and a member of the IEEE Computer Society Board of Governors.
Los Alamitos, Calif. (PRWEB) July 12, 2010
The IEEE Computer Society Industry Advisory Board has agreed to support and help update the Guide to the Software Engineering Body of Knowledge (SWEBOK), the document that provides the foundation for the organization's software development certifications and software engineering model curricula.
The project will be headed by Jeffery Wilcox, Vice President of Engineering at Lockheed Martin, and include Brian Stevens, CTO of Red Hat; TK Ramesh, a Boeing Technical Fellow and Chief Technologist at AMS-VO; Gargi Keeni, Vice President of TCS; and Shmuel Shottan, CTO of BlueArc. The group will focus on building a business model for the continuous updating of the SWEBOK Guide, which is recognized as an ISO/IEC Technical Report.
SWEBOK Guide Co-editor Pierre Bourque said he appreciates participation from the 14-member advisory board, which is composed of global corporate technology executives, entrepreneurs, and industry researchers. "Having the support of the IEEE Computer Society's Industry Advisory Board will help ensure the industrial relevance of the SWEBOK Guide," said Bourque, a Computer Society Board of Governors member and associate professor and director of the master's in software engineering program at Ecole de technologie supérieure (Canada).
The IEEE Computer Society began defining a software engineering body of knowledge in 1998 as a step toward making software engineering a legitimate engineering discipline and recognized profession. The current 2004 version of the Guide, published in early 2005 with 10 knowledge areas, identifies "generally accepted" software engineering knowledge.
"Software has become an essential aspect of all engineering efforts. As we collaborate with academia, industry, and government, it is important that we have a globally accepted body of knowledge to serve as a baseline for software development practices," Wilcox said.
Updating the SWEBOK Guide will bring it in line with current industry practices, as well as the Software Engineering 2004 (SE2004) and GSwE2009 curriculum guides, and the Certified Software Development Associate (CSDA) and Certified Software Development Professional (CSDP) certifications. The updated Guide will include new knowledge areas on professional practice, engineering economy, and computing, mathematical, and engineering foundations.
Software practitioners worldwide participate in Guide updates, using a rigorous process that includes successive levels of review and values transparency and consensus-building. During development of the 2004 SWEBOK Guide, team members received and replied to almost 10,000 comments from more than 500 reviewers in 42 countries.
The IAB was launched in mid-2008 as the Advanced Technology Executive Forum by Rangachar Kasturi, 2008 Computer Society president and the Douglas W. Hood Professor and chair of computer science and engineering at the University of South Florida; Carl K. Chang, editor in chief of Computer and professor and chair of the computer science at Iowa State University; and other Society leaders.
About the IEEE Computer Society
With nearly 85,000 members, the IEEE Computer Society is the world's leading organization of computing professionals. Founded in 1946, and the largest of the 38 societies of the Institute of Electrical and Electronics Engineers (IEEE), the Computer Society is dedicated to advancing the theory and application of computer and information-processing technology, and is known globally for its computing standards activities. For more information, go to http://www.computer.org.
###