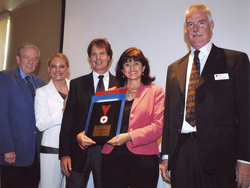 Media Woman of the Year 2010
Los Angeles, CA (Vocus) July 10, 2010
As El Clasificado celebrates its' 22 anniversary, connecting buyers and sellers in the Hispanic grassroots communities of Southern California, Martha de la Torre and Joe Badame, co-founders, were honored by the Rio Hondo Chapter of the American Red Cross with the "Hometown Heroes Award" for their commitment to community service. This award came days after Martha de la Torre, publisher and CEO of El Clasificado, was named "Media Woman of the Year 2010" during the 7th NLBWA-LA Latinas in Business Awards.
El Clasificado was founded in 1988 as a low cost shopper. Modeled after the Pennysaver, Spanish-speaking Latinos could now find the products and services they needed in the Los Angeles area. But Martha and Joe had a broader vision: to provide in Spanish helpful information that would have helped their own families when they immigrated to the U.S. seeking a better life. This included articles on health; how to get your kids in college; how to become a U.S. citizen and much more.
El Clasificado's mission has always been to teach, inspire and empower Latinos to learn to make life better for themselves and their families. El Clasificado works hard to fulfill this mission not only through its' business operations but also through its' involvement in the community. With the strong support of the company, all levels of management are encouraged to mentor and share their success especially with children of all ages. "It's important to share the hardships that we experienced in attaining our goals," states Martha de la Torre. "I was born in East LA. My father arrived in this country with $17. My mom worked in a factory when she first arrived. Work hard, study hard and get the best education possible. Seek opportunities and learn to take care of yourself, help others, do good deeds and make your community a better place. This will lead you to success and an enriched life." Martha often shares her experience at community events and schools where she is asked to speak."
The best way to strengthen our communities is to grow our business and create more jobs. "We are very proud of being recognized as a Hometown Hero by the American Red Cross, an organization that has helped so many and is so trusted, " said Joe Badame, Chief Operations Officer of El Clasificado. "At the end of the day, one of the most rewarding things about El Clasificado is the lives we have changed by giving so many people jobs in the communities surrounding East LA, Norwalk and now with our new office in San Bernardino. We love creating quality jobs with career opportunities and have many examples of mentored high school students from Garfield High that received a university degree and then were trained to be leaders and managers in their own right. Now we are starting to pass the baton to these young managers so they in turn can mentor new crops of young people that seek to make life better for themselves and their families."
El Clasificado have been providing quality jobs for 22 years and look forward to offer many more jobs in many Latino communities now that the company is expanding throughout all of California in print and globally with a variety of websites: http://www.elclasificado.com, http://www.quinceanera.com, http://www.pacoslist.com and http://www.susociodenegocios.com.
The Red Cross-Rio Hondo Chapter Awards took place on June 7th, 2010. This prestigious award recognizes extraordinary citizens whose heroic actions have saved lives as well as the professional accomplishments of individuals and companies that have helped improve their communities. The Red Cross-Rio Hondo is an independent, non-profit organization that provides local communities with health services and emergency assistance.
The NLBWA-LA Awards were celebrated on June 3rd, 2010 at the L.A Design Center/Cisco Brothers Corp to commend the successes and contributions of Latina entrepreneurs, executives and professionals in the Los Angeles Metropolitan area who have demonstrated financial success and a commitment to the advancement of the Latino community.
El Clasificado is a Hispanic multiplatform media company that provides a marketplace for Spanish-speaking Latinos in grassroots communities. El Clasificado's contributions to the community and entrepreneurial spirit have also been recognized by organizations such as the Initiative for a Competitive Inner City (ICIC) and by The Los Angeles Business Journal. Most recently, El Clasificado was included, for the sixth consecutive year, in the Hispanic Business 500 List of the Largest U.S. Hispanic-Owned Companies.
###