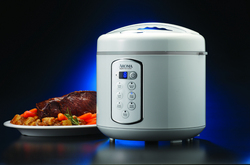 San Diego (Vocus) July 12, 2010
Rice cookers have often been compared to slow cookers for their ability to produce a delicious meal with minimal effort on the part of the cook. Other than that fact, the two have not had much in common; one cooks at boiling for a fairly short time, the other at a low heat for a very long time. Aroma Housewares, America's top-selling rice cooker brand, has found a way to bridge the gap between these two beloved appliances, with the new Aroma Professional Rice Cooker, the first to feature a true 10-hour programmable slow cook function.
While past rice cookers have boasted of a "slow cook" function, it has typically been a fixed 2-hour program, not exactly a slow cook. The new Aroma Professional Rice Cooker is the first to include a true programmable 10-hour slow cook function, comparable to any digital slow cooker on the market today.
Along with the full functionality of a digital slow cooker, this new rice cooker maintains all the features that have helped to make Aroma America's Favorite Rice Cooker. The Aroma Professional Rice Cooker truly embodies Aroma's mission of giving families the ability to create a healthy meal and have valuable time together while the rice cooker handles the cooking.
Aroma has long been appreciated as the top brand in the rice cooker category. Aroma's overwhelming market dominance grew in large part from an unwavering commitment to offering the features consumers wanted most— at an affordable price point. It's the reason why when NPD asked consumers which brand best offered the features they were looking for, Aroma was the top answer.
The new Aroma Professional Rice Cooker will be available nationwide in Costco stores beginning this summer for $29.99.
# # #