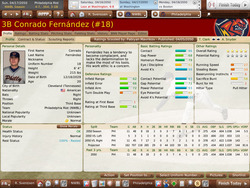 "It's amazing how closely OOTP can match what happens in real life, and often in ways you least expect it." - Lead Developer Markus Heinsohn
West Chester, PA (PRWEB) July 13, 2010
At the start of the baseball season, OOTP Developments contacted the Baseball Bloggers Alliance to run MLB season simulations with their award-winning baseball simulation game, Out of the Park Baseball 11 ("OOTP 11"). Over twenty bloggers took up the offer. Midway through the season, some of the simulations are looking surprisingly accurate. In fact, despite many industry experts picking the Philadelphia Phillies to walk away with the National League East, almost half of the OOTP simulations have the Atlanta Braves winning the division. In the real world, Atlanta is carrying a 4-game lead heading into the All-Star break.
"OOTP is a simulation game, not a prediction engine per se," commented founder and lead developer Markus Heinsohn, "but the truth is, it's probably just as accurate as most of the prediction engines out there. It's amazing how closely OOTP can match what happens in real life, and often in ways you least expect it. Before we released the game, I ran a sample season in which Ubaldo Jimenez won the National League Cy Young Award, and I was worried that the code needed tweaking!" he laughed. The real-life Jimenez, who had a lifetime 31-28 record prior to this season, looks to be running away with the NL Cy Young this season, with a 15-1 record so far this season.
The OOTP series, in which you assume the role of the general manager of a baseball franchise, has captured the hearts of fantasy baseballers for over a decade now with its unparalleled feature set, incredible flexibility, and statistical realism. OOTP 11 is no exception. Gaming Nexus gave OOTP 11 their highest possible score, saying, "Out of the Park Baseball 11 made many improvements to last year's already impressive simulation. With so many refinements that make it a better experience, it's a no-brainer for those looking for a baseball simulation game." OOTP 11 delivers to baseball fans what is missing in fantasy baseball, console games, and other baseball sims - a truly immersive baseball experience.
As a special All-Star promotion, from July 12th through July 18th, OOTP 11 is available for just $29.99 (customers in the European Union pay €29.99), a 25% discount off the list price. OOTP 11 can be downloaded directly from the OOTP Developments web site. Download links, links to OOTP's web stores, and further information can be found on the OOTP 11 web site. OOTP 11 is available for Windows, Mac, and Linux.
About Out of the Park Developments
German-based Out of the Park Developments is the developer of the award-winning OOTP baseball management series, and also develops Title Bout Championship Boxing. OOTP Developments was founded by Markus Heinsohn and Andreas Raht in 1999, and their games have met with consistent critical acclaim, including winning Metacritic's coveted "Game of the Year" in 2007. For more information on OOTP, please visit the official web site, follow us on Twitter, or on Facebook.
About the Baseball Bloggers Alliance
The Baseball Bloggers Alliance was formed in 2009 to foster communication and collaboration between bloggers across baseball. Member blogs are encouraged to use one another to deepen their understanding of baseball and the teams that play it. There are currently over 200 member blogs.
###