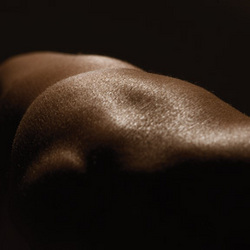 Anatomy meets landscape, it's such a radical thing but at the same time it works.
(PRWEB) July 12, 2010
This is the very pinnacle of creative fine art photography.
Nick's Gregan's Ambiguous Misdirection exhibition is nothing like anything seen before in the Galleries of London!
Pushing the boundaries of contemporary photographers imagination, the depth and intrigue to this collection is captivating, it transports you into a generous roving space that is the curiosity of your imagination.
As you walk around the gallery each and every image begs the viewer to interact with it, to ask how they were created and where they were they created. The answer is in the visionary creativity that is the mind of the photographer.
From the ambiguous Obsidian Cat which looks as though it could be a sculpture hewn out of black iron brass, to the ever misleading Golden Hollow that is reminiscent of a well-pool filling with water from the rain. The collection reminds me of the zodiac sign Gemini; with each image combining a little of everything and so revealing the intense mental energy of the photographer's mind to its full capacity. 
Some of the images are recognizable and skim the surface of the creative movement known as Bodyscape, a collection of strong images representing the celebration of the female form in a light-hearted way. However the depth passion evoked in these images take photographing the human body to a whole new level.
The silhouettes give you a sensual excitement without any hint of titillation, they offer a hidden mystery differing from the norm, creating an impression of a landscape on the surface of the body. While many of the images are intentionally ambiguous, the rest of the collection is artistically created to subtly mislead.
After much persuasion Nick finally opened his portfoilo of private work to the general public. The opening night was met with great anticipation and surprised even some of his biggest supporters with the sheer volume of beautiful images he'd had tucked away.  
A truly thought provoking and awe inspiring collection.
###