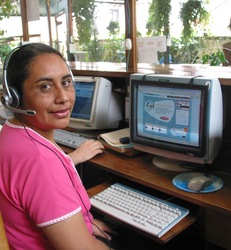 "I remember asking our first customer, 'Do you think you will be able to learn Spanish this way?' Now we have the numbers to show that it works," said Clay Cooper, Founder and CEO
Portland, OR (PRWEB) July 14, 2010
Speak Shop, the award-winning provider of live Spanish lessons by video chat, has now delivered more than 15,000 hours of one-on-one Spanish lessons.
"When we started Speak Shop, no one was teaching Spanish using videoconferencing technology," recalled Clay Cooper, Founder and CEO. "I remember asking our first customer, 'Do you think you will be able to learn Spanish this way?' She gave us a lot of affirmation and that fueled us to keep going," he said. "Now we have the numbers to show that it works."
Speak Shop, a family-owned business, was created to bring the world closer through language instruction. Speak Shop's 12 Spanish teachers are based in Guatemala and Nicaragua and have found greater independence and financial stability by teaching online. "I am a single mother and sole earner, and Speak Shop has been very important in helping me provide for my daughter and improve my economic situation," says Speak Shop teacher Mayra Juarez.
About Speak Shop
Founded in 2004, Speak Shop is a certified B Corp (for benefit company) that increases cross-cultural foreign language education and generates fair wage businesses for talented teachers in developing countries. Customers take personalized, cross-cultural, conversational Spanish lessons at their convenience using a computer and high speed Internet connection. Speak Shop helps students learn Spanish online for good. For more details visit http://www.speakshop.com
# # #