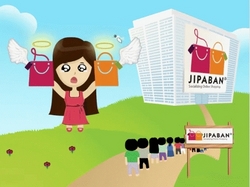 Jipaban not only serves as an online shopping mall, it aims to replicate the unique shopping experience with friends.
(PRWEB) July 13, 2010
Shopping is certainly, one of Singaporeans' favourite pastimes and here is yet another reason for us to shop! You do not have to jostle with other shoppers or brave the humid weather to get the best bargains, instead you can shop in the comfort of your own home and office with Jipaban - Singapore's one-stop online shopping mega mall.
Reliable, Interactive And Fuss-Free Experience For Shoppers:
Jipaban shoppers can take pleasure in a one-of-a-kind shopping experience as they customize their very own 'shopping mall' with their favourite shops and utilize the easy navigation functions that were specially created to make online shopping a breeze.
What sets Jipaban apart from other online shopping mediums is their social networking element where shoppers can form their own network of friends to interact with. Friends will be able to comment, express their likes and even dislikes on the product you want to purchase. Interactive features include the 'egg-on list' where shoppers can get their friends to cast their votes for a shopping item and creation of a 'wish list' that makes shopping for birthday presents for friends as easy as ABC. The latest networking element that has been introduced is the integration of Facebook. Shoppers can update their friends on what they have added on their 'egg-on list', 'wish list' and other purchases they have made on Jipaban via their Facebook accounts. With this, social networking is now integrated with online shopping, making the user's experience much more interactive.
Shoppers can also keep up to date on new item launches by retailers or announcements of new online shops on Jipaban.com.
Easy To Use, Hassle-Free Customized Service For Retailers:
Retailers can now opt for a more hassle-free way of selling their products online. With Jipaban, retailers can upload pictures of their products for all to see in just a few easy steps.
The easy to use system comes with an organized dashboard - retailers will be furnished with useful information such as total revenue generated, sales, number of visits to their shops and demographics of their shoppers. Comprehensive reports of business statistics will be made available to retailers, so all they have to concern themselves with is the showcasing of sale items. Also, retailers will be able to add a personal touch to the outlook of their online shops by selecting preferred themes while at the same time, leveraging on the high traffic of individuals shopping at the mall.
Cheo Ming Shen, one of the co-founders of Jipaban said: "Jipaban not only serves as an online shopping mall, it aims to replicate the unique shopping experience with friends. Very often, people feel online shopping can be unsafe and unreliable. With Jipaban, we offer a friendly, reliable, conducive and hassle-free way for our shoppers to shop online while still being able to enjoy the shopping experience with their friends." The other co-founders of Jipaban include Timothy Tiah and Pierre Pang.
Jipaban houses sundry items, ranging from male and female fashion apparel, accessories to board games.
Jipaban currently houses 80 tenants including their five anchor tenants, with more to come. Shoppers can look forward to some of Singapore's most popular online brands on Jipaban such as Bonito Chico, Ohsoficke, Ohmymuffins, Access-ed and SingTel (the five anchor tenants). Visit the Jipaban Online Shopping Blog for the latest online store additions and shopping deals.
Jipaban is under home-grown company, Netccentric Pte Ltd, an Internet solutions innovator established in August 2006.
About Jipaban
Jipaban is an online shopping mall that offers both retailers and shoppers a novelty experience with integrated social networking elements. Online shopping is made interactive, exciting, convenient and efficient as we build the mall to serve the needs and interests of our shoppers, retailers and advertisers while eliminating some of the problems and inconveniences they face. A one stop shopping destination for all, Jipaban promises to deliver all the desirable and unique features online shopping can ever offer! Beware – it's addictive! For more information, visit http://www.jipaban.com.sg.
###