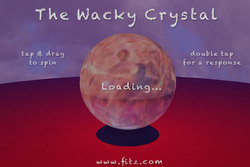 Wow the texture on the crystal ball is awesome. If you look deep into the crystal ball you can even see spiders and black cats. Very Cool. Super smooth and responsive controls. The fortunes are great and provide added fun. I love this app.
Brooklyn, NY (PRWEB) July 13, 2010
John has been working hard at night and on the weekends to create the Wacky Crystal HD app. It is simple family friendly app that you spin and then double tap on for a response, fortune or unsolicited advice. You never know what the Wacky Crystal will come up with next. There are over 175 different responses. It is now available at the Apple App Store.
John is hoping to sell enough apps to quit his day job and start his own app company creating the best immersive entertainment apps on the planet.
John has over 14 years of experience designing and developing interactive media like web sites, DVDs, motion graphics, banner ads and email marketing campaigns. He has worked in a variety of industries from entertainment to advertising. He is currently designing & developing websites as well as apps for the iPad™, iPhone®, and iPod Touch®.
Apple, the Apple logo, iPhone, iPod touch, and iTunes are trademarks of Apple Inc., registered in the U.S. and other countries. iPad is a trademark of Apple Inc. App Store is a service mark of Apple Inc.
###