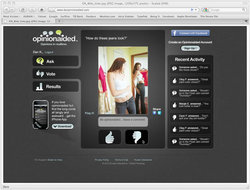 ...we are focused on creating the best opinion tool for our users.
Red Bank, NJ (PRWEB) July 12, 2010
Kurani Interactive, an award-winning technology company, announced today that it has launched the Opinionaided platform. Opinionaided is a free opinion tool that helps users get opinions in real-time from friends, family, and the public.
The formal launch follows a successful period in private beta that included an invitation-only website and a limited iPhone app release. In two months of testing, there were a quarter of a million votes/comments with an average of 195 votes per user. The decision to formally launch came after Apple featured the application in Germany and Austria on July 8th, vaulting the application into the Top 10 for social networking.
The Opinionaided platform helps users get and give opinions quickly using the Opinionaided website, iPhone app, email, Facebook, and Twitter. Users can ask questions, and the community instantly provides sentiment and comments to help with decision-making.
The company has hinted that long-term monetization plans may include market research. Dan Kurani, Opinionaided's founder shared, "for now, we are focused on creating the best opinion tool for our users."
Opinionaided is available at http://www.beopinionaided.com and as a free download from Apple's iTunes Store: http://bit.ly/9aeB30
About Kurani Interactive
Kurani Interactive develops digital products that disintermediate formidable industries. Visit Kurani Interactive's website at http://www.kurani.com or call (800) 889-7676.
Media Contact:
Alan Mazzan
(732) 345-1700 x103
amazzan(at)kurani(dot)com
###