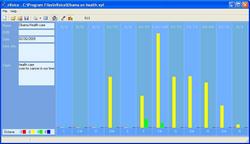 Look at the nanoVoice™ graph that appears here. Is it the same or similar to what you bought from someone who charged hundreds, thousands of dollars? If you have been bamboozled out of your hard earned cash by these skunks, demand your money back.
Albany, OH (PRWEB) July 13, 2010
How would you react if you worked hard all week but your paycheck was cashed and kept by someone else? To make matters worse, the authorities offer only token assistance to help you or prevent the culprits from using your funds to swindle other people. How would you feel; unappreciated, abandoned, unrewarded, frustrated? What would you do? This is the story of how one woman, who was determined not to be victimized, turned the tables on unscrupulous thieves.
For nearly three decades, Sharry Edwards has been using her unique vocal and hearing talents to create the foundation for a technology, Human BioAcoustic Vocal Profiling, which uses frequency-based biomarkers to help the body diagnose and heal itself.
From the beginning of her journey which examines how the frequencies from the voice can influence health and well being, her attorney wisely counseled her that if she could truly create something so monumental as a completely new science, then she should expect that at least a few people would attempt to usurp her work as their own. After all if what she developed was worthless, no one would bother stealing it. This is her story:
"Granted it has been wonderful these last three decades to be involved with the development of a pioneering system that is being seen as the medicine of the future, yet, as predicted, along with the rewards of birthing a new paradigm there has been adversity."
"As I struggled to deal with the problems that other people attempted to put in my path, I accepted that, with change comes resistance. My personal belief is that everything happens for a reason. Universal laws predict that if I could grasp the lesson from a disturbing event, then I would be required to repeat the experience. What has happened to me is that people have hijacked my work, collecting money from my labor and invention; which fills their coffers and leaves my pockets empty."
"I tried using Man's law by going to Court but after thirteen years of deliberately delayed litigation, I've accepted that our small town is not prepared to value or protect my intellectual property. And so I searched God's law for a solution that would be appropriate. I think I've come up with a terrific win/win solution for everyone; except the thieves, of course."
"I have decided to provide to anyone who is interested, a copy of the original software that was hijacked; in addition I've written a reference manual and prepared a video class that will be available on-line – all at no cost. In that way the thieves will have no more victims to swindle; everyone will have the software already."
"The more I thought about this solution the more I appreciated it. I should have thought of this long ago then the "Universe" would not have needed to create such an enormous breech of Man's law to help me pay attention. It made me realize that this software should have been in the hands of the public all along. So I have people to thank, the thieves, for inspiring me to share the software that will allow the end user to click a few buttons and create a computerized Personality Profile. The thieves, in turn, owe me the millions they collected selling my Intellectual Property."
"The incredible success of the movie, The Secret, shows that the large portion of the population is ready to accept that their intentions play a part in creating their reality. But what The Secret left out is that people often don't know what they really want; given all of the 'oughts' and 'shoulds' of societal traditions. People can lie with their words but the frequencies of the voice reveal the Truth. The software we are providing will help people discover their authentic self; plus the software can provide information about nutrition and weight management if they want to take advantage of the online classes."
"People who are interested can go to http://www.nanoVoice.org; click on the nanoVoice* to download. It takes only a few minutes, unless you have dial-up. No one will even ask your name or email address. No commercials, no pop-ups, that's a promise. If you are using a Mac, there are special instructions listed and don't forget to download the reference manual."
Take a look at the nanoVoice™ graph that appears above. It was developed more than two decades ago. Is it the same or similar to what you bought from someone who charged you hundreds, thousands of dollars? If you have been bamboozled out of your hard earned cash by these skunks, demand your money back. You will be doing the world a favor.
If this give-away works, we can expand our efforts to include the additional 40+ software programs that can help create frequency-based profiles for nutritional needs, muscle strengths and weaknesses, indicators of Post Traumatic Stress, monitor eye issues, heart problems , vaccination risks, dementia, Parkinson's, fibromyalgia and most anything else we can think of to help people move toward SELF HEALTH. People will be able to manage the body's resources in terms of anti-aging, weight management and stress using Vocal Profiling."
People who want to attend the online class, can write to class@vocalprofiling.com but the online instruction manual is designed to be self instructed.
*NanoVoice (previously the Korg BioVoice Program) is the foundational software developed by Sharry Edwards to be used as a tool for the exploration of BioAcoustic Biology and Sound Health. The protocol can most aptly be described as a combination of music therapy, fractal mathematics and biofeedback. Edwards has been instructing classes and writing about Human BioAcoustics since the early 80's. Based upon her unique research and vocal abilities, she has developed an entire line of software that is being used to train providers to bring together an efficient alternative to our failing health care system.
###