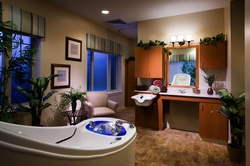 Rane walk-in bathtubs for the home provide a safer, smarter alternative for every member of a family
Sparta, TN (PRWEB) July 15, 2010
With an expanded product line that includes both walk-in and slide-in 'easy access' tubs, Rane Bathing Systems is helping consumers with mobility problems -- and those without -- enjoy worry-free bathing bliss at home. Rane, the leading manufacturer of safe access bathtubs for both residential and institutional settings, has adopted a 'one size does not fit all' philosophy and now offers six different designs that provide natural pain relief and stay-at-home independence while eliminating the fear of falling, a leading cause of home injury.
Most people interested in walk-in bathtubs are attracted to this type of bathing solution because of a present mobility problem or concerns about future mobility. This is true both for people with limited mobility, themselves, as well as children who may be considering a purchase as a way to ensure the safety of an aging or disabled parent. Rane walk-in tubs 'Easy As 1-2-3 Selector Chart' addresses the four broad levels of a person's mobility from fully ambulatory to significantly impaired.
"Rane walk-in bathtubs for the home provide a safer, smarter alternative for every member of a family," says Jim DeKraker, President of Rane. He notes that Rane tubs ensure both maximum enjoyment and maximum health benefits from deep water soaking. Consumers may also opt for added benefit of hydrotherapy jets to soothe aches and pains.
Bathroom Safety A Top Priority for Seniors AND Juniors
"Getting in and out of a standard bathtub is something most people take for granted," says DeKraker. "But seniors and those who are injured or disabled are vulnerable to slip and fall injuries. That turns the simple pleasure of an everyday bath into a terrifying experience or something they simply can't risk." DeKraker points to a research report published by Aurora, a home-care products company based in Ohio.
Aurora found that there are nearly 200,000 bathroom accidents per year, making up nearly 70% of all home accidents. Falls account for 40% of all nursing home admissions and 40% of those admitted do not return to independent living.
But the elderly aren't the only ones at risk. A study published in 2009 by the journal Pediatrics shows that slips and falls in the bathtub cause more than 43,000 injuries to children each year in the United States. The most frequently injured body part is the face, followed by the head or neck. And more than half of the cases involved children age 4 and younger.
"With both built-in and free-standing models available in a variety of sizes and styles, we believe there's a Rane walk-in tub that's a perfect fit for everyone and every bathroom."
Pioneering Safety and Relaxation
The people at Rane Bathing Systems have been in the bathtub industry for more than 30 years, pioneers pioneer in the design and manufacture of walk-in bathtubs, deep tubs, large tubs, and side-access tubs. "Rane is the only company with walk-in bathtubs for the home that use the same advanced technology developed for institutional bathing systems," reports DeKraker. "Our extensive product line makes it easy for our residential customers to outfit their bathrooms with an easy-access tub they can enjoy for years."
"Rane is dedicated to providing innovative built-in and free-standing bathtub solutions that address the physical and emotional needs of our mobility-challenged customers," says DeKraker. "We are dedicated to working with our customers in a partnership for good health, and we apply all of our resources…experience, knowledge, leading edge technology and customer service…to optimize the benefits they receive from our products."
For additional information on the full line of Rane Bathing System products, to view their promotional video, and to use Rane's 'Easy As 1-2-3 Selector Chart' please visit the company's website at http://ranetubs.com
# # #