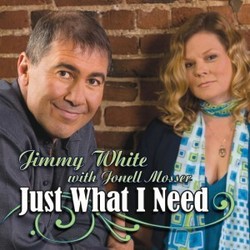 Nashville, TN (PRWEB) July 12, 2010
Jimmy White's latest release, "Just What I Need", his duet with Nashville's legendary Jonell Mosser, has been an unequivocal success on the National AC and Country charts. As of this week the single has reached #2 on the New Music Weekly AC/Hot AC main chart and #4 on their Top 40/AC Hot 100 chart. The duet has been rising quickly on the national FMQB AC/Hot AC Top 20 chart where it just reached the #12 position. Also this week, the single has topped the Independent Music Network's Mainstream Top 30 chart and has crossed over and hit the #1 position on the Country chart.
The song is also becoming Jimmy's first Country crossover hit, with a quick move "on deck" on the Music Row chart.
This strong showing on these charts has come from increased airplay on the single to currently over 3000 plays per week worldwide. This airplay number will increase as the single starts it's debut on several Billboard/Mediabase monitored stations in the coming weeks.
The success of "Just What I Need" has been built on a foundation of previous smaller network hit records, the breakout coming in 2009 with the unprecedented success of "So Far Behind", which rose to No. 12 on FMQB AC chart, staying in the Top 15 for 9 consecutive weeks. The FMQB is a national radio airplay charting service populated nearly exclusively by major label artists. "So Far Behind" was also White's 9th No. 1 independent AC single in a row and led to his second New Music Award (the first was in 2007 for White's "Hidden Pictures"). In addition, White also won the award for "Best Male Artist" at the 2009 Independent Music Awards.
Since 2006, White has had 3 records go to No. 1 on New Music Weekly's Main AC/Hot AC chart, and, as noted above, all of his releases since 2006 (10 total) have reached No. 1 on one nationally recognized chart or another, including the Los Angeles based Independent Music Network.
White's radio success has also been mirrored in video airplay success with his music videos. His first video, "I Wish You Peace" (2008), achieved 2 months of regular daily rotation on video outlets and shows around the world, including national U.S. networks like the Gospel Music Channel, which reaches over 45 million households. This video has started to become a Holiday programming favorite at video outlets worldwide, with it's universal message of peace and brotherly love.
His second video, "Angel Eyes", and his latest, "So Far Behind", have been solid additions to the success of "I Wish You Peace", and have helped to further build White's national exposure.
Currently, New Jersey based animation studio, Tres3d is animating the music video for "Just What I Need". This unique music video will be released in August to music video networks and outlets nationwide.
For a free download of the Jimmy White/Jonell Mosser duet, "Just What I Need", go to http://toneboxdigital.com/jimmy-white-free-single. To find out more about Jimmy, click on his website: http://www.jimmywhitemusic.com or his MySpace page at http://www.myspace.com/jimmywhitemusic .
For press or interviews, please contact Steve Baker at Steveb(at)visualimagemarketing(dot)com.
###