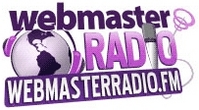 Fort Lauderdale, FL (PRWEB) July 12, 2010
The Fourth of July may have come and gone, but WebmasterRadio.FM offers up three breathtaking interviews with three top internet marketing individuals over the remaining three weeks of the month.

Tuesday July 13th-Clay Shirky, author of "Here Comes Everybody", will appear as a guest on Larry Weber's hit Internet Marketing radio show, "Market Edge" at Noon Eastern and 9am Pacific to discuss online collaboration and organization. Topics will include social media usage on mobile devices and changes in organizational structure.
Tuesday July 20th-Matt Cutts, the head of the webspam team at Google, makes his first appearance as a guest on "The WordPress Community Podcast" at 5pm Eastern and 2pm Pacific. He will appear on the 60 minute program, hosted by Joost De Valk and Frederick Townes.
Wednesday July 28th- Brian Solis, one of the most prominent thought leaders and published authors in new media, and the acclaimed author of Engage: The Complete Guide for Brands and Businesses to Build, Cultivate, and Measure Success in the New Web, will speak one-on-one with fellow New York Times author and social media guru Joel Comm on "The Joel Comm Show" at Noon Eastern and 9am Pacific.
Listeners are able to interact with their questions and comments to the host and guests for each interviews, as well as all live WebmasterRadio.FM programming, by:

Following us on Twitter @webmasterradio
Becoming a member of the WebmasterRadio.FM Facebook page and
Log in to our live 24-hour real-time chatroom monitored by our show hosts at http://www.webmasterradio.fm/chat.
Market Edge, The WordPress Community Podcast and the Joel Comm Show are weekly series that are heard and archived exclusively on WebmasterRadio.FM, the world's largest online B2B Radio Network. These programs, as well as all WebmasterRadio.FM podcasts, are available on iTunes.
About WebmasterRadio.FM
WebmasterRadio.FM lifts the "veiled curtain" of the Internet, bringing the business community together through an interactive radio network. Its listeners are a global group, comprised of everyone from corporate executives and decision makers to small and mid-sized businesses and individual entrepreneurs. WebmasterRadio.FM's stellar line-up of radio programming includes "CoverStory" with Jiyan Wei of PRWeb, WebmasterRadio.FM's official newswire; "Market Edge" with W2/Racepoint Group Chairman Larry Weber; "SEM Synergy" with Search Engine Marketing Industry Leader Bruce Clay, "The Joel Comm Show" with New York Times bestelling author and serial entrepreneur Joel Comm and more. To tune into WebmasterRadio.FM's live content or check out the show lineup, please visit http://www.WebmasterRadio.FM.
Media Contact:
Brandy Shapiro-Babin
954-309-5578
# # #