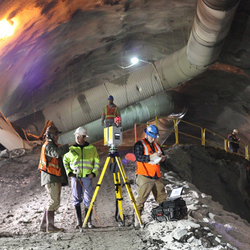 "The Amberg TMS system has increased our productivity by at least 10 times," says Rob White, Tunnel Survey Manager at J.F. Shea. "I can't imagine building a tunnel any other way."
Chicago, IL (PRWEB) July 15, 2010
On the No. 7 Line Subway Extension, S3II Tunnel Constructors, a joint venture between J.F. Shea, Skanska and Schiavone have deployed a complete tunnel surveying solution (TMS Solution) from Amberg Technologies, a Swiss based company.
The chosen system automates common tunneling tasks and utilizes a high speed Amberg Technologies 3D laser scanner specially adapted for tunnel scanning, a Leica Geosystems robotic/reflectorless total station with an onboard Amberg tunneling software package and an Amberg office software suite. On this project, the tools work together at all phases of construction to manage the huge amounts of data produced by scanning, produce reports and visualizations, establish control, set out blast holes, compare new excavation to design profiles, find areas of overbreak and underbreak (tights), monitor shotcrete volumes and more.
"The Amberg TMS system has increased our productivity by at least 10 times," says Rob White, Tunnel Survey Manager at J.F. Shea. "I can't imagine building a tunnel any other way."
White also says that learning on the job was a feasible way to get up to speed, "By practicing and trying new things, we were able to figure out new ways to use TMS." And, White says that the automation and simplicity of TMS Solution are big advantages in themselves: "We had some surveyors on this project who weren't specifically trained for tunnel work. Most of the guys were from commercial construction and one had been working on a landfill. They all did fine, because the routines in TMS did the thinking for them.
Successful Future Tunnel Surveying Projects
By applying the latest tunnel surveying technology from Amberg Technologies to one of mankind's oldest engineering tasks, the S3II Tunnel Constructors survey crews working on the No. 7 Line Extension have significantly increased production while achieving higher accuracies and now work in a safer environment. And, they expect to use the knowledge gained on this project as a foundation for future successful projects.
Comprehensive Tunnel Measurement Solution
Tight budgets, tough quality demands and enormous time pressures require total efficiency from all aspects of tunneling. Amberg Technologies offers a surveying solution that sets new benchmarks in measurement and automation for conventional tunneling: TMS Solution for measuring a tunnel profile to a high degree of accuracy, guiding the tunnel excavation, conducting 3D profile controls with the need for real time results, or carrying out a comprehensive analysis of the dimensions and condition of a tunnel project.
About Amberg Technologies
For almost 30 years, Amberg Technologies has remained a leading provider of specialized system solutions for the geo-referenced collection and refinement of civil infrastructure information. Thanks to solid knowledge and the steadfast focus of our company's activities on the area of civil infrastructure, especially railways and tunnels, the system solutions from Amberg Technologies enjoy an excellent reputation by experts worldwide. Proven technologies, outstanding quality and reliability as well as the exceptional creation of value through daily utilization have convinced professional users of our products in over 40 countries.
For further Information, please contact:
Amberg Technologies AG
Trockenloostrasse 21
8105 Regensdorf-Watt
Switzerland
Phone +41 44 870 92 22
Fax +41 44 870 06 18
http://www.ambergtechnologies.com
North America Corporate Contact :
Brian S. Daniel
Sales & Distribution Manager
Mobile: 757.630.0094
###