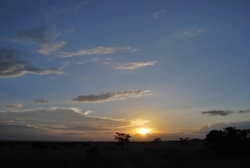 Younger audiences have been dicovering the Out of Africa theme on YouTube.
Chicago, IL (PRWEB) July 21, 2010
Spurred by today's credit scarcity, mainline studios began a downsizing program that infringed on independent film ventures. But the little guys are fighting back with anemic," life-support budgeted", independent film productions. Filmmaker in Action's Raincoat Mafia was funded using the resources of the parents of the would be producers and directors. Operating out of an old condo boiler room, another indie producer, Eric Draper and associates, have created Bloodlines, a feature length, low budget, sci-fi thriller that seeks to drive online audiences to its site. All this comes at a time when YouTube has announced plans to go to feature length VOD formats.
Perhaps the most audacious challenge to conventional film deal making has been created by Tranquil Masterworks. Making the kind of strategic decisions usually devised only in studio boardrooms, tiny Tranquil is attempting to acquire exclusive copyrights from giant Universal Pictures. The acquisition would allow Tranquil to produce a derivative script suggested by the 1985 Out of Africa release with hopes of interesting top film stars, such as Meryl Streep and James McAvoy, in considering participation. Tranquil simultaneously seeks to interest established production entities, such as Egoli Tossell, to take ownership of the project, essentially directing, producing, and distributing the film.
The lynchpin to Tranquil's deal is a script for a derivative story (fiction) built on the progeny of the character originally played by Meryl Streep in the 1985 film. Tranquil hopes to interest Meryl Streep, now with Richard Lovett's Creative Artists Agency, in the role of Ilsa in the new screenplay entitled Out of Africa; The Return. The script is the debut effort of Mike Lennon, formerly Special Creative Projects executive with Fusion Studios. The story centers on Andrew Cardian, Ilsa's love offspring. Cardian starts out as a young medical student, lost in the demands of torrid lovemaking with a now sophisticated, former childhood sweetheart, and enters the complexities of a postwar specialization in medicine. Returning to his native Kenya, a self-doubting Andrew finds he is unable to avoid medical challenges in a politically unstable, and even dangerous, East Africa of the 1950s.
Tranquil hopes to interest James McAvoy, now with Ruth Young's United Agents agency in London, in the role of Andrew Cardian. Tranquil has already started the search for young, native, African talent for major co-star roles. One of the incentives in developing The Return project was to once again put John Barry's theme in a film. Younger audiences have been discovering the Out of Africa theme on YouTube.
Tranquil is piloted by Sev Hrywnak, who has been involved in sports entertainment through various media enterprises. He is the owner of the Rochester Razorsharks, an expansion basketball team. Mike Lennon is currently general manager of Tranquil Masterworks. Further information is available at 773 637 2333.
###