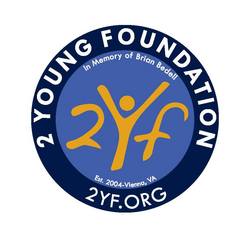 Vienna, Virginia (Vocus) July 12, 2010
The 2 Young Foundation (2YF) is proud to announce the date for the 15th annual Northern Virginia Wiffle® World Series (NVWWS) taking place on Saturday, August 7th at Waters Field in Vienna. The day will be filled with Wiffle® ball, food, fun, games, prizes, and even a Kids' Wiffle® ball tournament. All money raised will go towards the Foundation's unwavering mission to find a cure for brain cancer – contributing all funds to furthering research and also providing support for the families and patients affected by the disease.
The NVWWS will be an all-day event on August 7 that will kick-off at 8:30am with team check-in, and the first pitch will be thrown at 10am. While the adults are at bat, children can experience "Kids World" where they can play games, win prizes or go for a jump in the giant moon bounce! The Kids' Wiffle® ball tournament will be for children aged seven and younger. The adult championship game will be held at 7pm, followed by an awards ceremony - complete with trophies for the winners.
NVWWS player registration has already begun and interested players can sign up on the 2YF website (http://www.2YF.org). The site also provides information about corporate and team sponsorships, numerous volunteer opportunities, how to obtain spectator tickets, and much more!
2YF has sponsored the Wiffle® World Series for the past six years, and with remarkable generosity and outstanding support it has contributed over $250,000 in support of its cause. For information about the Northern Virginia Wiffle® Ball World Series, or to make a tax-deductible donation, visit 2YF.org.
About 2YF
The 2 Young Foundation was founded in 2004 by Brian Bedell and continues to grow each year in his honor. 2YF is a non-profit (501c3) charitable organization that is dedicated to caring for families and patients affected by brain cancer, connecting communities to generate public awareness, and committing funds to further research in curing this disease.
###