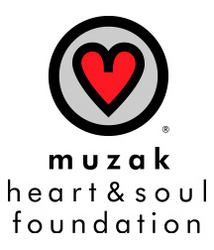 We're incredibly excited for this year's Noise! Camp, and I'd like to thank the Nashville music community and Belmont University for their generous support and commitment
Nashville, TN (Vocus) July 12, 2010
The Muzak Heart & Soul Foundation and an engaging group of music industry professionals will join together next week at Belmont University to provide 32 teens the music education experience of a lifetime.
The ongoing mission of the Muzak Heart & Soul Foundation is to support and redefine music education, by orchestrating and funding events including Noise! 2010, a summer camp for aspiring young music professionals. Occurring July 18th through the 28th, Noise! will give students a hands-on learning opportunity through a series of field trips and lectures from top music industry professionals.
This year's field trips will include visits to: Sony Music Nashville, Ocean Way Studios, CMT, Clear Channel Radio Studios, Capitol Records and the Country Music Hall of Fame.
Speakers this year include: Lisa Harless, Senior Vice President of Regions Bank; John Jubilee, Celebrity Fitness Consultant; Steve Moore, Senior Vice President of AEG Live and CMA Board of Directors; Richard Orga, Grammy Award winning publisher; Chris Grainger, Record Producer of Wilco, Switchfoot, Six Pence None The Richer; Kay West, Critic & Writer for People Magazine, US Magazine, Author; Suzanne Wyatt, Music Industry Veteran and former background vocalist for Charlie Daniels, Lee Greenwood and Tommy Tutone; John Rolfe, Attorney at Rolfe Entertainment Law; Genevieve Jewel, Head of New Media, Borman Entertainment; Kami Knake, Director of Artist Relations at Brite Revolution; Dan Turner, Director of Music Programming, Muzak; Vanessa Davis, Publicist, Splash! PR; Sherrie Austin, singer/songwriter; Rob Rappaport, President/CEO of Better Angels Music; Quinn O'Sullivan, Owner, Dan McGuiness Pub; Mark Mason, Senior Director of Writer/Publisher Relations, BMI; Matthew Morgan, Booking Agent with Creative Artist Agency (CAA); Faith Malloy, artist manager with Vector Management; The Invite, a new act at Atlantic Records.
"We're incredibly excited for this year's Noise! Camp, and I'd like to thank the Nashville music community and Belmont University for their generous support and commitment," said Shauna Collins, Head of Sponsorship and Events for the Heart & Soul Foundation. "With 7 of last year's Noise! Students set to attend Belmont University's Music Business program this fall, I think it's clear that the University's participation has created a lasting impact on talented Noise! students."
This year's generous sponsors are: Muzak LLC, Belmont University, Best Buy Musical Instruments, Taylor Guitars, Loews Vanderbilt Plaza, Matchless Transportation, South Central AV, Dan McGuiness Pub, Blind Pig 55 BBQ Restaurant and Maggiano's.
About The Muzak Heart & Soul Foundation
The Muzak Heart & Soul Foundation was established as a 501(c)3 non-profit public charity organization in 1998 by Muzak LLC. The Foundation's mission is to support and redefine music education throughout the United States. The Muzak Heart & Soul Foundation helps students turn their passion for music into real world opportunities – by providing teens with new and exciting programs focused on all aspects of the music business. To learn more visit us online at http://www.Heart.Muzak.com or call 803.242.3129. Muzak Heart & Soul Foundation can be found on Facebook under the "causes" app, and on Twitter @MuzakHeartSoul
Contact
Shauna Collins
803.242.3129
###