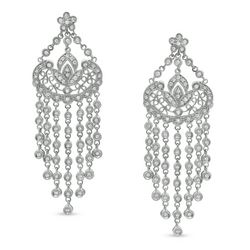 Philadelphia PA (Vocus) July 12, 2010
With a new location in Philadelphia and a new executive director, Dress for Success Philadelphia is celebrating its second anniversary in the City on July 26, 2010. The Diamonds and Denim Summerfest to be held at the Water Works Restaurant and Lounge will honor Dress for Success Philadelphia clients, donors and supporters, and provide funding for the expanding organization. For the second year, Zale Corporation is the presenting and exclusive diamond sponsor for the event.
Zale Corporation CEO Theo Killion said, "We are proud to partner once again with Dress for Success Philadelphia and its Diamonds and Denim Summerfest benefit. It's important for businesses and communities to come together to produce effective change in the lives of women, who need that catalyst to transform their struggle into a productive, successful life. We are glad to provide the diamonds for the evening's activities, knowing that the proceeds raised and the visibility created from this event will support the women in the Philadelphia region in their job search and life skills development journey."
Ellen Freda, on board as executive director since April 28 of this year said, "We're thrilled Zales is partnering with us again to help us promote the economic independence of Philadelphia women. Dress for Success Philadelphia is the single busiest location in all 113 Dress for Success locations worldwide. This speaks to the overwhelming need here in Philadelphia for our network of support and services, especially in these demanding and uncertain times."
The Hotel Palomar Philadelphia, a Kimpton Hotel, will receive the Corporate Hero award, and ARAMARK, will receive the Corporate Partner award during the event's program. Both companies are being honored and recognized for their generous support of Dress for Success Philadelphia.
The highlight of the evening will be the legendary Diamond, Denim and Destination dig. For just $10 a scoop, or three scoops for $25, each guest will have the opportunity to dig in the sand box to find a numbered stone, which will correspond to a winning diamond gift. Undiscovered diamonds will be included in the live auction, which will cap off the evening's event. This year guests will also be able to win denim jeans and travel gifts by finding a denim or travel token in the sand.
The evening's event begins at 5:30 p.m. and includes a silent auction, the Diamond, Denim and Destination Dig, and a live auction. The award presentation will begin at 8 p.m. Cocktails, hors d'oeuvres, and islands of elegant dining cuisine will be available throughout the evening.
Proceeds from the evening's benefit will go toward the expansion, operation, and continued development of Dress for Success Philadelphia programs for clients. Freda added, "After outgrowing the organization's original space during our first few months of operation, we were finally able to relocate our boutique and offices last May to 233 N. 12th St., just two blocks from the Convention Center. This move more than doubled our previous space, and allows us to better address the needs of our clients. Now in addition to making sure our clients are dressed right to get the job — we have the capacity to really help our clients through our on-site career center. Our career center provides interview tips, educational resources and helps teach women how to develop skills that will result in a long term employment".
Zales, The Hotel Palomar Philadelphia, ARAMARK, PECO, UPS, CBIZ, Comcast, QVC, Stradley Ronon, Expert Parking, Campbell Soup and WeaverWorks have signed on as sponsors to date. The auction will include fine apparel, travel and dining, portraits, and entertainment venues and tickets, as well as many other interesting offerings. For tickets to Diamonds and Denim please visit http://www.dressforsuccess.org/philadelphia.
About Dress for Success Philadelphia
Located at 233 N. 12th Street, Dress for Success Philadelphia has helped over 4,500 low-income women in the Greater Philadelphia area emerge from poverty and re-enter the workforce since opening its doors on July 1, 2008. Dress for Success Philadelphia is part of a worldwide not-for-profit organization offering services designed to help its clients find jobs and remain employed. The mission of Dress for Success is to promote the economic independence of disadvantaged women by providing professional attire, a network of support and the career development tools to help women thrive in work and in life. Since 1997, the Dress for Success organization has served more than 550,000 women around the world. Visit http://www.dressforsuccess.org/philadelphia for more information.
About Zale Corporation
Zale Corporation is a leading specialty retailer of diamonds and other jewelry products in North America, operating approximately 1,900 retail locations throughout the United States, Canada and Puerto Rico, as well as online. Zale Corporation's brands include Zales Jewelers, Zales Outlet, Gordon's Jewelers, Peoples Jewellers, Mappins Jewellers and Piercing Pagoda. Zale also operates online at http://www.zales.com, http://www.zalesoutlet.com and http://www.gordonsjewelers.com. Additional information on Zale Corporation and its brands is available at http://www.zalecorp.com.
Media Contact:
Donna Weaver
WeaverWorks
215-428-0972
# # #