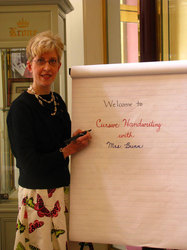 Washington, DC (Vocus) July 12, 2010
Fahrney's Pens offers its third series of Cursive Handwriting Workshops for children ages 8 to 12 years, (3rd - 6th grade).
Last year, Fahrney's decided to offer parents an alternative means to help their children practice and learn the art of cursive writing. The first two series of classes were well received by children and parents alike.
The two-hour workshops are being held on the following Saturdays from 1:00pm - 3:00pm in Fahrney's downtown store: July 24th or July 31st. Each workshop is limited to six students and costs $60, which includes a workbook and a fountain pen that they can take home.
A few weeks ago, Fahrney's Pens partnered with The Smithsonian National Postal Museum and the Pen Collectors of America in hosting a "Pens & The Post" Family Festival. The "Cursive for Kids" handwriting workshop was conducted during the festival and Fahrney's had the opportunity to put Pelikan Junior Fountain Pens into the hands of 75 children!
Penmanship was once an important part of every student's early education, but the world of personal computers, e-mail and texting has rendered the handwritten note an obsolete form of communication – a skill that many of today's students only learn to appreciate from their grandparents. Schools are spending less time than ever teaching the art of cursive handwriting as more effort is devoted to typing in the early grades.
With these classes, Fahrney's hopes to introduce the younger generation to the joys of the written word to record their inner thoughts and feelings and to reinforce the importance of clear communication. Studies show that learning cursive helps children's brain synapses to develop because it requires fluid movement, eye-hand coordination and fine motor skill development.
Store location: 1317 F Street, NW, Washington, DC (two blocks from the White House, one block from Metro Center) Store phone: 202-628-9525
Class listing: http://www.fahrneyspens.com/content--id-12
###