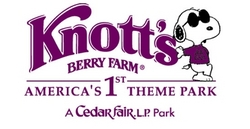 Knott's Berry Farm is proud to join with our sister Cedar Fair Parks in hosting Coasting for Kids
Buena Park, CA (Vocus) July 13, 2010
Knott's Berry Farm is asking coaster enthusiasts to indulge their passion for the thrill ride and help a worthy cause and go "Coasting for Kids" on Thursday, July 29. Knott's is looking for participants to ride the Jaguar coaster for 10 hours to help raise funds for Give Kids The World Village, a nonprofit organization that provides family vacations for children living with life-threatening illnesses. Knott's will join with 10 other Cedar Fair parks in hosting this event making "Coasting for Kids" a national event.
To be a part of "Coasting for Kids" participants must raise a minimum of $50 through http://www.firstgiving.com/gktw by July 28. Participants can raise the money themselves, or can have friends donate to the cause. To enter, participants need to sign up for Coasting for Kids under "register for an event" on the firstgiving.com website. The top 30 fundraisers will earn a seat on the Knott's Jaguar coaster. The marathon ride will begin at 7:00 am and will include a light breakfast, as well as a Mrs. Knott's Chicken lunch at noon. All registered participants will receive a ticket to Knott's Berry Farm as well as a "Coasting for Kids" t-shirt. Top fundraisers will receive Knott's Berry Farm Beagle Bucks to spend in the park as well as Knott's Berry Farm merchandise.
"Knott's Berry Farm is proud to join with our sister Cedar Fair Parks in hosting Coasting for Kids," said Knott's General Manager, Marty Keithley.
"Knott's welcomes children from Give Kids The World everyday and we are committed to providing memorable and magical experiences to children with life threatening illnesses and their families. We feel that Coasting for Kids will give others the satisfaction of helping such a deserving community."
For more information on Give Kids The World visit, http://www.givekidstheworld.org. For more information on everything that is happening at Knott's this summer, visit knotts.com
Knott's Berry Farm is owned and operated by Cedar Fair Entertainment Company, a publicly traded partnership that is listed for trading on The New York Stock Exchange under the symbol "FUN." In addition to Knott's Berry Farm, Cedar Fair owns and operates ten other amusement parks, six water parks, one indoor water park resort, and five hotels. Cedar Fair also operates the Gilroy Gardens Family Theme Park in Gilroy, Calif. under a management contract.
###