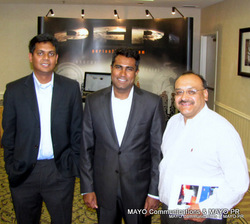 "Smart Grid technology transforms the way utilities can deliver power to customers, but we need to educate and explain in layman's terms just how it works," said Pres. & CEO Sarav Periasamy, PERI Software
Sacramento, CA, and Newark, NJ (PRWEB) July 14, 2010
Utilities need to "go beyond simple 'smart meter' initiatives to the process of using less energy" according to a study released by the nonprofit American Council for an Energy-Efficient Economy (ACEEE). PERI Software Solutions Inc., a global business solutions company agrees. PERI is participating in the National Association of Regulatory Utility Commissioners Conference in Sacramento July 18 – 21, 2010, at the Sacramento Convention Center.
"Research shows that 60 percent of the electricity generated in this country is lost to inefficiencies, and the fact that smart grid technology is green and substantially enhances grid efficiency through improved outage detection and response helps utility customers feel good about saving energy," said Sarav Periasamy, president and CEO, PERI Software. Periasamy is scheduled to speak at 11:15 AM, Sunday, July 18th, on "Cost Effective Solutions for Smart Grid."
"Smart Grid technology transforms the way utilities can deliver power to customers, but we need to educate and explain in layman's terms just how it works," he said.
PERI Software is the only certified minority business enterprise in the U.S. with an end-to-end smart grid solution. The company, based in Newark, NJ, can provide both its own smart grid advanced metering infrastructure (AMI) and smart meter technology and software platform or PERI can act as systems integrators on any smart grid platform, regardless of technology.
The ACEEE study concludes that "advanced metering initiatives alone are neither necessary nor sufficient for providing households with the feedback that they need to achieve energy savings. However, the initiatives do offer important opportunities. The report said, "To realize potential feedback-induced savings, advanced meters must be used in conjunction with in-home (or on-line) displays and well-designed programs that successfully inform, engage, empower, and motivate people."
"PERI is developing these Home Area Network devices enabling customers to control the use of electricity in their homes in real time," Periasamy said,
There are also privacy concerns that surround the new technology that PERI will addressed and reveal how its business solutions will meet those demands.
"Smart Grid and Smart Metering introduce access control, network and application security concerns at and beyond the meter," explained Periasamy. "We will be discussing how to prepare a security policy, understand and prevent network security issues and respond to incidents."
Attendees will also hear PERI talk about the role based access control of data, devices, networks and applications, along with audits and reinforcements.
"The emerging technology that allows the integration of Home Area Network to the Smart Grid has added security concerns that have to be addressed especially with data, multi-application integration and communication networks," said Chief Technology Officer Satish Chetty, PERI Software Solutions, Inc.
Founded in 1999, PERI is a global business solutions company, which has grown to more than 700 plus employees and delivers high value-cost effective technology based business solutions. PERI draws on deep industry expertise and a portfolio of interrelated consulting, business processes, application development along with smart-intelligent hardware and software products. PERI blends strategic design, proven technology, and timely delivery of solutions that maximize customers return on IT investment. Be sure to visit PERI's blog for company updates and developments
perisoftware.wordpress.com.
[Editors: For images and advanced media interviews with PERI Founder and President Sarav Periasamy, please call: Aida Mayo or George McQuade at 818-340-5300 or 818-618-9229 or email Publicity(at)MayoCommunications(dot)com.
###