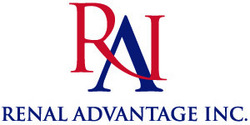 Alabama and Florida are important to our continued growth across the nation and throughout the Southeast.
Nashville, Tenn. (PRWEB) July 13, 2010
Renal Advantage Inc. (RAI) – the third largest for profit provider of dialysis services in the U.S. – has acquired five dialysis centers in Alabama and Florida effective July 1, further reinforcing its aggressive growth strategy for 2010 and beyond. The centers are located in Oxford, Anniston, Jacksonville and Talladega in Alabama; and Sarasota, Fla.
The two separate transactions, terms of which were not disclosed, are the latest in a robust growth and acquisition vision that has seen RAI open six new centers in five states and acquire 12 more in less than a year – leveraging the company in the dialysis marketplace. RAI has now increased its Alabama presence from two centers to six, and its Florida footprint from 11 to 12 centers – together adding more than 400 patients and 60,000 annual treatments.
RAI now has 154 centers in 19 states, and provides dialysis services to more than 12,000 patients. This expansion underscores the company's strategic mission of increasing its presence in key markets nationwide.
"Alabama and Florida are important to our continued growth across the nation and throughout the Southeast," said Michael Klein, chief executive officer of RAI. "As we eye future expansion, it is important to focus on the markets and regions that we serve, while achieving our long–term growth strategy through selective acquisitions that further solidify RAI's competitive position within the industry."
In addition to the Alabama and Florida center transactions, RAI has recently opened new centers in California, Florida, Nebraska, Tennessee and the Washington, D.C. suburbs since last November.
About Renal Advantage Inc.
Based in Brentwood, Tennessee, RA Group Holdings, Inc., through its wholly owned entity, Renal Advantage Inc., provides dialysis services to patients with chronic kidney failure, also known as end-stage renal disease (ESRD). RAI delivers quality care to more than 12,000 patients in 154 dialysis centers in 19 states. RAI also advances laboratory services through RenaLab, a state-of-the-art independent clinical laboratory located in Jackson, Miss. Founded by veteran healthcare executives, RAI's growth plan began with its acquisition of 73 dialysis centers in October 2005, which was financed in partnership with Welsh, Carson, Anderson & Stowe. For more information, visit RAI's website at http://www.renaladvantage.com.
# # #