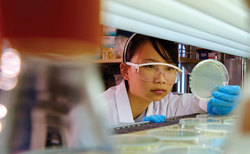 We are very excited to be delivering biology content to 9th graders at their own individual reading levels.
Lakewood, NJ (PRWEB) July 13, 2010
Achieve3000 announces "World of Biology", a breakthrough in differentiated science curriculum. Our goal is simple: to help students improve their science literacy and end of course exam scores, as well as performance on high-stakes tests.
World of Biology is a standards-based biology curriculum that uses differentiated science content and vocabulary, and is designed to help students develop the literacy skills needed to succeed in biology. The program is an add-on module sold with the Empower3000TM platform (formerly TeenBiz3000®).
"We are very excited to be delivering biology content to 9th graders at their own individual reading levels," says Achieve3000 CEO Saki Dodelson. "Not only will students improve their understanding of biology and improve test scores, but they can develop a greater appreciation for the sciences as a whole."
The World of Biology Program helps students to use and further develop key reading strategies through differentiated biology lessons at four different reading levels. A placement test properly assesses each student's current reading level and understanding of key biology concepts to determine their correct reading level.
In addition, nonfiction content creates an easy to use, student-friendly program that is aligned to the textbooks being used in the classroom. The World of Biology taps into different main topics including: Cell Biology; Molecular Basis of Heredity; Interdependence of Organisms; Matter, Energy and Organization in Living Systems; Biological Evolutions; and Human Systems.
Achieve3000's technology-driven solutions integrate best practices of inquiry-based, problem-based, and/or project-based science. They address STEM literacy initiatives by providing opportunities for students and teachers to integrate STEM into curricula via topical, differentiated science and math content, hands-on learning experiences, recommendations for authentic laboratory experiences, debate, and informal learning in order to increase interest and academic performance in STEM disciplines.
Additional features include professional teacher materials, unit reviews, and a parental take-home component making World of Biology an excellent fit for any science classroom. Each implementation of the program includes: A student routine designed to facilitate best practices in science literacy; Unit Reviews to assess understanding of key vocabulary and concepts; Pre- and Post-assessments track student progress within the program; Teacher materials reinforce the concepts students are learning; and a Parental component that engages parents and leverages their support.
"Students using the World of Biology Program can experience a higher level of engagement when learning about biology and participate in classroom discussions regardless of reading level. Achieve3000 is proud to be the first provider of leveled biology curriculum," says Saki Dodelson, Achieve3000 CEO.
Schools that are interested in learning more about the World of Biology or other differentiated reading comprehension programs from Achieve3000 can visit http://www.achieve3000.com or contact the corporate office at 888-968-6822.
About Achieve3000
Achieve3000, founded in New Jersey in 2000, is the leader in online differentiated instruction. Its products deliver online differentiated literacy solutions proven to increase reading comprehension, fluency, vocabulary and writing proficiency for students in grades 2 through 12 and also for adult learners. Through its proprietary software engine, the company provides tailored assignments to each student in the class based on his or her reading level. The company's products are based on decades of scientific research and are delivered in a non-fiction, current event format. They include KidBiz3000TM (grades 2 through 5) and Empower3000® (grades 6 through 12) and Spark3000® (a reading and writing program for adult learners). Achieve3000 is located in Lakewood, New Jersey.
# # #