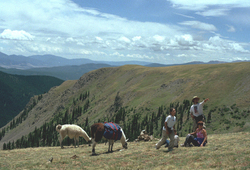 People return to where they've come from re-invigorated, recharged, and reconnected to the natural world.
Taos, NM (Vocus) July 13, 2010
This summer in Taos, New Mexico, explore pristine wilderness areas, raft down the Rio Grande Gorge, soak in hot springs that have been soothing body, mind and spirit for thousands of years, and then stay in an authentic adobe hotel that has its own kitchen garden and recycles everything on premise including its cooking oil for bio diesel.
As part of its "Return to Sacred Places" travel education theme, Taos welcomes visitors to a region of the Southwest that is becoming the premiere destination for ecotourism. In May, New Mexico announced that Taos and the Gila Wilderness Area are the two regions to be fast-tracked as part of a pilot program offering visitors the kind of ecotourism experience typically found in remote locales such as Kenya, Costa Rico or New Zealand.
"Ecotourism is that sweet spot where adventure, education, and culture meet conservation and respect for local interests," says wilderness guide Stuart Wilde. "We already have world-class recreation in outrageous natural beauty, access to ancient cultures, and a community that has a built-in conservation consciousness, so for Taos it seems a natural fit."
Wilde heads up Wild Earth Llama Treks, an outfitter that offers single or multi-day hiking and camping adventures in the Sangre de Sangre de Cristo Mountains. "Having along a fuzzy buddy adds to the experience," Wilde says of his llamas.
"They're the ambassadors of the wilderness who carry our packs as we hike along discussing the region's history, geology and ecology."
http://www.llamaadventures.com/
Sandy Cunningham, communications director of EcoNewMexico, LLC, who is helping implement this iniative with the New Mexico Department of Tourism, sees this low-impact, high-yield conservation-based tourism as a way of caring for the planet while jump-starting local economies. Before coming to New Mexico she and her partner, Chip, spent many years in Africa developing sustainable ecotourism programs there.
"You might also call this 'responsible travel,' " Cunningham says, "since these are the trips that change your world. When people have an authentic experience in nature it sets up a transformative journey and often impacts other parts of their lives: the way they feel about being in the landscape, interacting with indigenous cultures, and learning about bio-diversity."
Wilde agrees, "People return to where they've come from re-invigorated, recharged, and reconnected to the natural world. And maybe if they take a little of this magic back with them, they'll more easily see the beauty of nature and the benefits of conservation in their own backyards."
A growing number of lodgers in the greater Taos area are offering wide-ranging ecotourism experiences; from four star to under-the-stars accommodations. For further information or to book an Eco Tour, contact Sandy Cunningham at Eco New Mexico: 505.795.7711, 888.326.4440 or sandy(at)eco-newmexico(dot)com.
For more information specific to the State Ecotourism initiative contact Deputy Secretary Jennifer Hobson of the New Mexico Tourism Department (NMTD), 505-827-6674 or jennifer.hobson(at)state(dot)nm(dot)us
For more information on ecotourism in Taos and the surrounding areas, contact Stuart Wilde at 800.758.5262 or LlamaTrek(at)aol(dot)com.
Quick Links:
Taossacredplaces.com
http://newmexico.org/news/archive/index.php
Eco Activities in Taos
Ojo Caliente Mineral Springs Resort & Spa
Just 45 minutes south of Taos is Ojo Caliente Mineral Springs. Deemed sacred by Native Americans, it is the only hot springs in the world with four different sulphur-free mineral waters. The resort includes suites, cottages and private homes, plus a full-service spa, private outdoor pools, detoxifying mud pool, hiking and yoga. The more adventurous will enjoy over 15 miles of mountain bike trails through the surrounding mesas to the ancient Posi Pueblo site and historic Mica Mines. Or ride the delightful and more level 2-mile Bosque River Loop. Dine on global cuisine in the restaurant & wine bar. Open every day 8am - 10pm. http://www.ojospa.com
Taos Inn
Located in the heart of Taos, the unique Taos Inn has been acclaimed by National Geographic Traveler as "One of America's Great Inns" and listed on the National and New Mexico Registers of Historic Places. A great jumping off or re-imersion stay for your Taos ecotourism experience. http://www.taosinn.com/
Los River Runners
Los Rios River Runners has access to more of New Mexico's rivers than any other rafting company. Tours include the white-knuckle whitewater of the world-famous Taos Box, the spectacular Chama river canyon, and the Rio Grande with a native guide followed by a traditional Pueblo Indian feast. Overnight trips available.
http://losriosriverrunners.com/
Brazos Meadows Ranch and Recreation
Brazos Meadows Ranch & Recreation Co. offers exclusive access to a private mountain paradise near the northern New Mexico and southern Colorado borders.
http://www.brazosmeadows.com/
The Bavarian
A true alpine-gone-southwest inn. Located at a wilderness boundary and the base of stunning Kachina Peak above the European-style village of Taos Ski Valley, The Bavarian Lodge & Restaurant offers guests an authentic alpine ski inn amid the majesty of New Mexico's storied Sangre de Cristo Mountains. http://www.thebavarian.net/
Taos Pueblo
Home to some 1,900 inhabitants, Taos Pueblo is the only active Native American community designated both a World Heritage Site by UNESCO and a National Historic Landmark. The multi-storied adobe buidlings have been continuously inhabited for over 1,000 years. A visit to Taos Pueblo can be a magical and transformative experience; an essential destination in northern New Mexico. http://www.taospueblo.com
Media Contact: Barbara Duff, 575-758-8900, bduff(at)griffinassoc(dot)com
###