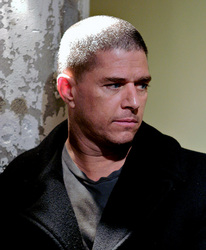 Kerberos is one of those special films that claws it's way to the top and demands respect.
Atlanta, GA (PRWEB) July 14, 2010
Award winning filmmaker Kely McClung's feature film, "Kerberos", makes its World Premiere during the opening weekend of the Action on Film International Film Festival in Old Town Pasadena, California, Saturday night, July 24th at 7:30 pm.
"Kerberos" is a raw, violent, 'cops and robbers' film with a relentless, multi-layered storyline and top notch acting. Ostensibly an action movie, "Kerberos" pushes on many levels and ultimately explores the struggle for redemption. Mediasaurs' Peter Demmon writes, "Kerberos is one of those special films that claws it's way to the top and demands respect."
Kely McClung's first feature film "Blood Ties", made a splash on the film festival circuit 3 years ago, premiering at the AOF, and going on to win "Action Film Of The Year". It later won multiple awards around the world including "Best Of Festival" and "Best Visual FX" at Indie Fest USA, the Audience award for Best Director at Big Bang Film Festival, "Best International Film" at festivals in Puerto Rico and the UK, and garnered numerous nominations for writer/director/actor Kely McClung.
"Winning 'Action Film Of the Year' at the Action On Film festival is what started our successful festival run for "Blood Ties", and the attention those wins brought made this new production possible. To come full circle and to be honored by such a prime time showing in this year's festival for the "Kerberos" World Premiere is really exciting," says Kely about the festival.
Of the former international martial arts champion turned director, the AOF festival founder and director Del Weston says, "Kely McClung is one of those filmmakers who understands that it takes a combination of skill, talent, teamwork, luck and persistence to make a good film. With what he knows and with his talents, Kely will be making great films for many years to come."
Starring Kely McClung (Blood Ties, Miami), award winning filmmaker Stan Harrington ("Bred In The Bone", "The Craving Heart"), and Robert Pralgo ("Vampire Diaries", "The Joneses"), and with an impressive debut from newcomer Whitney Sullins.
Shot in and around Atlanta, GA, Kerberos boasts an international soundtrack with 17 songs and score from bands in Australia, UK, and the U.S. The sound was mixed at Twickenham Film Studios in London, by BAFTA winning sound re-recorders and mixers Craig Irving and Rob James. Twickenham also mixed such films as "Shakespeare in Love", "Proof", and "Derailed".
An early 'work in progress' test screening of "Kerberos" in Downtown Disney last year during the Indie Fest USA Film Festival added two more wins for director/filmmaker Kely McClung: "Best Editing" and "Best Cinematography".
Mr. McClung said of the film, "We've been thrilled at the response so far. People recognize that it not so much a character study as the study of one man's character. I've continued to work hard to make sure that the movie lives up to the growing industry buzz. It's about respecting the audience and I'm excited to say it's finally ready for screening."
"Kerberos" screens July 24th, 2010, opening weekend of the Action On Film International Film Festival at the Regency Academy Theater in Old Town Pasadena. Tickets are on sale now at the AOF website and box office.
"Kerberos" is written and directed by Kely McClung. Starring Kely McClung, Robert Pralgo, Stan Harrington, Whitney Sullins, Chris Burns, and Courtney Hogan. Executive Producers Brad Fallon and Buck Rizvi. A Media Arts International Film Corporation and FreeLine Media Production
The "Kerberos Trailer" - caution: contains strong pervasive language and movie violence
Action On Film International Film Festival is the premiere festival for independent action films from around the world, and in 2009 was named by MovieMaker Magazine as one of the Top 25 Festivals Worth The Fees.
###