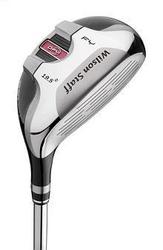 The Golf Warehouse is committed to ensuring our customers are outfitted with the right products and equipment for maximum play during the upcoming summer golf season. That's why we're happy to offer golf items and services designed to meet any golfer's needs, day or night
Wichita, KS (Vocus) July 13, 2010
TGW.com - The Golf Warehouse®, Golf's #1 Online Retailer, is helping golfers have some fun in the sun this summer with golf products that will turn up the heat on anyone's game. Every golfer can take advantage of TGW.com's outstanding prices on clubs, golf balls, gear and equipment, all designed to enhance results and make time on the green more enjoyable.
Dedicated to offering the largest and broadest selection of products since 1998, The Golf Warehouse® now has the following new products for Summer 2010:
Wilson Staff D-FY Hybrid Combo Irons - This innovative set of D-FY™ Irons features seamlessly fused FYbrid® long-club technology, powerful hollow-core mid-range clubs and accurate perimeter-weighted scoring irons. The graphite and steel Half-and-Half™ shaft delivers the speed and soft feel of graphite with the precision and consistency of steel, allowing for low to mid swing speeds. These clubs provide maximum forgiveness and distance control, while allowing players to hit the ball higher, longer and from any lie. Priced at $799.95.
Chromax Titanium Metallic Series Golf Balls - The new Chromax golf ball's reflective finish offers an advantage that will give the traditional white ball a run for its money! With a shine that reflects off the green, the remarkable brightness will save search time on the course and reduce lost balls. Its visibility in the air allows golfers to easily follow the ball in flight. Approved by the USGA, the balls come in a six-ball pack with color options including: assorted and metallic gold, orange, pink and silver. Priced at $17.95.
Tifosi Pave Series Golf Sunglasses - The Tifosi Pave Series Golf Sunglasses are a must-have for any golf enthusiast. They feature multiple, interchangeable lenses for variable light conditions, hydrophilic adjustable temple and nose pieces, and remarkably tough Grilamid TR-90 frames that are practically indestructible. The Polycarbonate Decentered Lens is maximized for optical clarity and is covered with Glare Guard™, which helps decrease eye fatigue. These sunglasses also provide 100% UVA and UVB protection and come with a zippered case and microfiber cleaning bag. Priced at $59.95.
Adams IDEA Black Super Hybrid - The IDEA Black Super hybrid series' ability to provide maximum distance will bring any golfer's game to the next level. This hybrid features a steel body and crown, a maraging steel face, velvet grip and Aldila VooDoo NV graphite shaft. Additionally, custom fitting is available through TGW.com's Custom Club, which allows players to fit their club to their game. Priced at $199.95.
Club Champ Electronic Swing Groover II - Now any player can work on their game in the comfort of their own home. Complete with a large LCD screen that animates ball flight and distance in real time, the Swing Groover II provides full shot analysis and tracking. Clubhead speed, best and average shot distance and shot direction are all calculated and digitally displayed in either standard yardage or Metric units. This device can also help determine proper club selection, from #1 Wood to #9 Iron. The Surlyn ball gives a true clubhead feel and the vivid white alignment stripe helps visualize a correct swing plane. It is adjustable for three different ball heights and its thick, durable nylon turf and heavy rubber base make it great for indoor or outdoor use. Priced at $149.95.
"The Golf Warehouse is committed to ensuring our customers are outfitted with the right products and equipment for maximum play during the upcoming summer golf season. That's why we're happy to offer golf items and services designed to meet any golfer's needs, day or night," said Brad Wolansky, CEO of The Golf Warehouse®.
TGW.com is THE place to go for golfers who want to improve their game and take pleasure in their time on the links.
About Redcats USA
Redcats USA is a dynamic, multi-channel, web-driven home-shopping leader, with numerous well-known brands in its portfolio: AVENUE®, Woman Within®, Jessica London®, Roaman's®, KingSize®, BrylaneHome® and BrylaneHome® Kitchen sold on OneStopPlus.com®, The Sportsman's Guide® and The Golf Warehouse™. Redcats USA offers a wide range of value and quality driven merchandise categories, including men's and women's plus-size apparel, home and lifestyle products, and sporting goods/outdoor gear. Redcats USA is a Redcats company.
About Redcats
Standing at the forefront of fashion, design and e-commerce, Redcats brings together 15 brands in home shopping: Avenue®, Woman Within®, Jessica London®, Roaman's®, KingSize®, BrylaneHome®, OneStopPlus.com®, The Sportsman's Guide®, The Golf Warehouse®, La Redoute, Vertbaudet, Cyrillus, Somewhere, Daxon and Ellos, present in 30 countries. Redcats generated 3.386 billion euros of sales in 2009, including 47% on Internet and employs approximately 16,000 associates. Redcats distribution network combines e-commerce web sites (more than 60) catalogues and stores (more than 600). Redcats is a PPR Company. For any further information: http://www.redcats.com
Contact Information
Karen Davis
Corporate PR & Communications
Redcats USA
212-502-9315
###