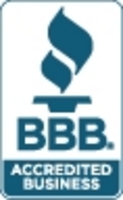 Our BBB Accreditation gives our customers confidence in our commitment to maintaining high ethical standards of conduct.
Fort Wayne, IN (PRWEB) July 14, 2010
This week, CNC Industries announced its recent accreditation by BBB Serving Northern Indiana. CNC Industries has always worked to promote trust and honesty with its customers and suppliers, the BBB accreditation is one more step to show this focus.
According to BBB reports by Princeton Research, seven in ten consumers say they are more likely to buy from a company designated as a BBB Accredited Business. With many customers retained from the first year of business in 1996, CNC Industries attributes its success in large part to the relationships with its customers.
"We are pleased to be a BBB Accredited Business because we value building trust with our customers," said Steve Deam, Sr. "Our BBB Accreditation gives our customers confidence in our commitment to maintaining high ethical standards of conduct. We feel that our accreditation is an important indicator to potential customers as well – it is difficult to evaluate new companies, and the BBB Accreditation should ease that process."
BBB Accredited Businesses must adhere to BBB's "Standards of Trust", a comprehensive set of policies, procedures and best practices representing trustworthiness in the marketplace. The standards call for building trust, embodying integrity, advertizing honestly and telling the truth, being transparent, honoring promises, being responsive and safeguarding privacy.
About CNC Industries
CNC Industries is a precision machine shop located in Fort Wayne, Indiana. With a wide range of customers in varying industries from aerospace, defense, medical, and specialty automotive among others, CNC Industries produces parts from prototypes to full production runs.
CNC Industries was on the INC 5000 list of fastest growing businesses in the United States for the years 2007 and 2008. As an ISO 9001:2008 certified company, CNC Industries focuses on standards and best practices in the machining industry.
About BBB
BBB's mission is to be the leader in advancing marketplace trust. BBB accomplishes this mission by creating a community of trustworthy businesses, setting standards for marketplace trust, encouraging and supporting best practices, celebrating marketplace role models and denouncing substandard marketplace behavior.
Businesses that earn BBB Accreditation contractually agree and adhere to the organizations high standards of ethical business behavior. BBB is the preeminent resource to turn to for objective, unbiased information on businesses and charities.
###