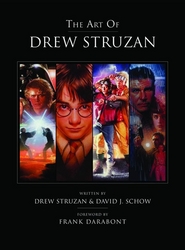 San Diego, CA (PRWEB) July 13, 2010
DREW, THE MAN BEHIND THE POSTER, is a feature-length documentary about his movie poster career, featuring exclusive interviews with George Lucas, Harrison Ford, Michael J. Fox, Frank Darabont, Guillermo del Toro, Steven Spielberg and many others. This excerpt will screen at Comic-Con on Friday, July 23rd at 5:00 p.m. in Room 7AB and will follow with a Q&A session with Drew and filmmakers Erik Sharkey (Director), Charles Ricciardi (Producer), Greg Boas (Editor and Cinematographer), and Marc-Antoine Serou (Cinematographer).
An autograph session with Drew will follow from 6:00 – 7:00 pm in Autograph Alley (AA2). At that time, his new DVD, CONCEIVING AND CREATING THE HELLBOY MOVIE POSTER ART will be available for purchase. This DVD presents a rare glimpse into Drew's illustration process. It is the answer fans and professionals alike have been waiting for. Watch the trailer on YouTube or purchase the DVD at Drew's website.
Drew's new book, THE ART OF DREW STRUZAN, will premiere at Comic-Con on July 24th at 11:00 am in the Autograph Alley (AA19) with Drew on hand signing books. This visual tour includes over 300 pieces of unreleased black/white and color comprehensive artwork and the history behind dozens of Drew's most famous posters. The book follows his evolution as the last... great movie poster illustrator, revealing relationships he developed in the movie industry, some yielded great triumphs, others ultimately led him to hang up his brushes.
AMC will distribute limited edition "The Walking Dead" series posters created by Drew. Frank Darabont, series creator/director/executive producer will be signing posters with Drew at the AMC, The Walking Dead booth at 4:00 pm, Friday, July 23rd.
Visit Drew's website or visit Drew's Official Fan Page on Facebook.
###