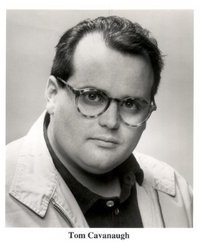 Los Angeles, CA (PRWEB) July 13, 2010
BEHOLD, a new play by award-winning playwright TOM CAVANAUGH, has been officially selected by the Utah Shakespearean Festival's New Playwrights Development Program. The Utah Shakespearean Festival ranks among the most respected and prestigious in the world, having received a Tony Award in 2000 for Outstanding Regional Theatre.
BEHOLD is a wrenching drama exploring themes of sudden violence, loss and transformation revolving around the death a suburban family's son in a Columbine-type high school shooting. Chosen from over 500 candidates, the play will be one of three developed annually in workshops with the Festival Company's own actors. BEHOLD will have a series of staged readings directed by Charles Metten with a cast of actors from the 2010 Utah Shakespearean Festival followed with a public forum for playwright, actors and audience to advance the development of the play.
TOM CAVANAUGH drew upon his own life experience in writing the play. His grandfather was beaten to death in his home by a gang of three teenaged boys. Cavanaugh, born in Newark, New Jersey, and now residing in Los Angeles, is a seventeen year veteran 911 operator and emergency dispatcher.
Cavanaugh received his M.F.A. in Playwriting from the Actors Studio Drama School in New York City in 2000, the same year his one act play DINER TALK was awarded first prize in the Jersey Voices One Act Play Festival and was later produced in Maplewood, New Jersey.
Cavanaugh is also an accomplished screenwriter, having won his first of several screenwriting competitions in 2002. His coming-of-age story THE HEROES OF '76 was a semi-finalist in the 2003 Sundance Institute Short Screenplay Competition. In 2006 he was featured as a "Writer to Watch" in the March/April 2006 issue of "Script" magazine, and his screenplay THE SHIFT, based on his 911 Operator experiences, was produced and directed by Chuck Parker as a 22-minute short film. THE SHIFT won Best Short at the 2007 Garden State Film Festival, was a finalist at the San Fernando Valley Film Festival, and was shown as part of the Exposition at the 2007 Cannes Film Festival.
In 2009, Cavanaugh's one act play WONDER won the Irene Bashore Award for Playwriting from Firstage Los Angeles, and he received his first commission for writing the one act play ACE OF HEARTS from Twilight Productions in Gilbertsville, Kentucky.
Cavanaugh has been a member of the Dramatists Guild of America, Inc., since 1998, and he is currently a member of the Actors Gym Workshop in Hollywood, California.
# # #