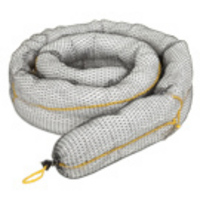 "Our Bi-Booms absorb oil, but also remove the sheen often left behind."
Atascadero, CA (PRWEB) July 12, 2010
Impact Absorbents, Inc., distributor of environmentally-conscious spill cleanup products, has come up with an alternative boom to combat one of the major problems facing workers in the Gulf Oil Spill cleanup effort; oil sheen.
"The absorbents currently being used absorb the oil and sludge in the water, but leave behind the most visible evidence of a spill, the oily sheen." said Morgan Durfee, Impact's General Manager. "Our Bi-Booms absorb oil, but also remove the sheen often left behind."
This product, called the XSORB Select Bi-Boom, consists of two three inch XSORB Select-filled absorbent socks contained by nylon netting, rope and clips for easy handling.
Is it safe to use? Yes. Impact's XSORB Select has been approved by the California Department of Fish and Game as well as the California Office of Spill Prevention and Response. XSORB will not harm sensitive marine environments.
Impact Absorbents, Inc is headquartered in Atascadero, CA. A pioneer in the absorbents market, Impact leads the industry with its XSORB product line that allows for easy and safe disposal of liquid spills. Impact's XSORB products have been used to clean up all types of spills, from juice spills at grocery stores to oil spills in harbors and marinas. The family-run company was founded in 1992 by Gary Tharp. For more information, visit http://www.xsorb.com.
###