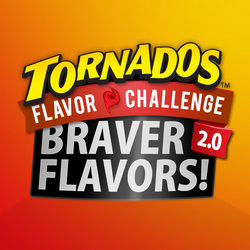 Fresno, CA (Vocus) July 13, 2010
Tornados announced this month the Facebook-based promotion "Flavor Challenge 2.0", in which the brand's 130,000 plus fans can submit flavor ideas in eight different categories. The top flavor in each category wins a year's supply of Tornados and a Tornados-wrapped microwave. One lucky entry may even see his or her face on a Tornados box.
(1) Tornados Facebook fans can submit flavors in any of up to eight 'flavor categories.' Categories open for submissions are:

Asian Fusion
Backyard BBQ
Kick-It Up (Spicy)
American Classics
Teen Snack Attack
Around the World
Early Bird (Breakfast)
Sweet Tooth (Dessert)
(2) Tornados Facebook fans can rate and comment on flavors entered, earning points redeemable for prizes in the Tornados prize vault. Prizes include: Experience of a Lifetime Raffle (VIP racing-themed trip for two to Charlotte, including the Richard Petty Driving Experience); virtual badges; t-shirts; etched I-Pod raffle … and more.
Each "Flavor Champion" wins a Tornados-skinned microwave and a year's supply of Tornados. One of the "Flavor Champions" could be featured on the Tornados box itself, if the flavor is developed.
All interactions will take place on the Tornados Facebook page: http://www.facebook.com/Tornados
Tornados -- Tornados – a convenient snack filled with grilled meats, melted cheeses and bold flavors wrapped in a crispy crust – is available in most convenience and retail grocery stores nationwide. America's #1 roller grill snack food, it has more than14 flavors from which to choose. Six bold retail flavors include:
Ranchero Beef & Cheese Tornados
Grilled Chicken & Cheese Tornados
Chicken Club Tornados
Southwest Chicken Tornados
Cheesy Pepper Jack Tornados
Cheesy Pepperoni Tornados
ABOUT RUIZ FOODS
Ruiz Foods is a privately owned corporation with corporate offices in Dinuba, Calif. Third-generation Bryce Ruiz, the elder son, is President and CEO. Kim Ruiz Beck, the elder daughter, is chairman. Their father, Fred Ruiz, is Co Founder and Chairman Emeritus.
Ruiz Foods is dedicated to premium quality, authentically prepared frozen foods selling to all channels of distribution: retail, convenience store, clubs, vending, industrial and foodservice. The Tornado brand, introduced just five years ago, has revolutionized the use of the roller grill in convenience stores and is also available in retail grocery stores nationwide. The El Monterey® brand is the market leader within the frozen Mexican food category and the No. 1 brand of frozen Mexican food in the U.S. Ruiz Foods employs over 2,500 Team Members in three facilities located in the U.S.
###